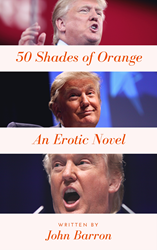 (PRWEB) August 11, 2017
Author quote: "Frankly, I'm amazed someone hadn't thought of it sooner," said John Barron, the author. "The most difficult part was how often I had to change the names of the White House staffers from draft to draft because they kept turning over so fast."
Author bio: "John Barron" is the name Donald Trump used when pretending to be his own spokesman in the 1980s. He would use this name when communicating with the media and testified under oath in a 1990 lawsuit that "I believe on occasion I used that name."
Book information: 50 Shades of Orange is a work of erotic political humor fiction with a length of 30,000 words. It follows the outline of 50 Shades of Grey; a young democratic-voting college student happens to interview Donald Trump and ends up falling in love with him. However, she soon finds that his emotional needs are beyond what she has ever considered acceptable and has to struggle with her own feelings for him. It ends when his demands become too much, and he can fulfill neither her needs nor his campaign promises.
The book includes references to Donald Trump's failed business, repurposes his own quotes and tweets into the context of the relationship, and references real-life political figures, media personalities, and White House staff, as well as true events and scandals from the life of Donald Trump. It retails for US$3.99.
Book link: https://www.amazon.com/dp/B074P1972P
Please email the author for a selection of quotes from the novel, which are not fit for print in a press release.
Contact details:
Email: johnbarronorange(at)gmail.com
Twitter: @TheOrangeBarron
Hashtag: #50SOO
Facebook: 50 Shades of Orange
Web: Fifty-Shades-of-Orange.com
Please visit Amazon.com for live sales statistics and reviews of 50 Shades of Orange.
"Because," he sighs, "I'm fifty shades of covfefe, Ana."