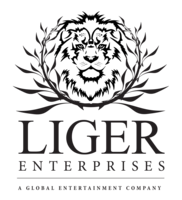 "When you are the best in class, you have no competition." Ron A. Spaulding, Founder and CEO
Los Angeles, CA (PRWEB) August 10, 2017
Music industry veteran Ron A. Spaulding and Major League Baseball Hall of Famer, Frank Thomas have joined forces to launch Liger Enterprises, a full service global entertainment company offering a complete line of entertainment solutions for content creators. As the name suggests, "Liger" (part Lion, part Tiger) a hybrid record company brings the best of a breed under one roof providing boutique service and best in class content, while adapting to the fast-changing music business. Liger provides creators with the necessary tools to nurture and incubate creative experiences including artist development, content creation, production and monetization of publishing assets, live events, and audio/visual content.
Through strategic partnerships, Liger Enterprises delivers independent solutions for its clients. Liger has partnered with independent distribution company AMPED™ for Physical and Digital Distribution of first class content. Additionally, through their partnership with MerchNow, Liger offers full service Artist Merchandise creation, fulfillment and collections.
"It's all about passion…do what you love and love what you do…that ain't work, that is SUCCESS," says Liger Enterprises CEO, Ron A. Spaulding. An authentic leader and strategist with an inspiring track record, Ron has played a lead role in both major and independent labels, as well as major and independent distribution divisions at the largest music companies in the world including; Universal Music Group, Capitol Music Group, Warner Music Group, Elektra Entertainment Group, Warner/Elektra/Atlantic Corporate, and Fontana Distribution.
Co-founder and President Frank Thomas simply explains his transition from sports to music by saying, "There are many roads to success, those that drive multiple roads are the ones that reach unparalleled amounts of fulfillment." Thomas's passion for music led him to establish his own independent record label, Un-D-Nyable Entertainment and then W2W Records, where he and Ron Spaulding engaged in their first business deal together. Frank brings a unique perspective to the music and entertainment world with unrivaled contacts, passion and love for the game of music.
Tony "X" Franklin, former Director of Lifestyles at Asylum Records, rounds out the executive team at Liger Enterprises as a key executive that will oversee the day-to-day operations, with responsibilities including promotions, contracts, marketing, A&R, and company direction. "Liger is creating an entertainment conglomerate. There is no element we cannot influence through our mission. At Liger we always seek out excellent talent to engage with," says Franklin.
The first album release from Liger Enterprises will come from the label's newest artist, Grammy Award-nominated singer/songwriter Kenny Lattimore this fall. In addition to the Grammy-nominated "For You," Lattimore's body of work includes his critically acclaimed sophomore album From the Soul of a Man and two top-10 charting duet albums with singer Chanté Moore: Things That Lovers Do and the gospel/R&B double-CD Uncovered/Covered. Lattimore's last solo project was the 2015 album Anatomy of a Love Song. In 2016, Lattimore released "A Kenny Lattimore Christmas," an 11-song holiday project created with Multi Grammy, Stellar & Dove Award winning producer Aaron Lindsey that landed Lattimore a #3 album position on the Billboard Gospel Charts.
Along the way, the singer has garnered Soul Train and Stellar Awards nominations as well as the NAACP Image Award for Best New Artist.
Focused on compelling music with a mainstream appeal, Liger Enterprises has offices in New York City, Los Angeles, Las Vegas, and Nashville. The enterprise provides end-to-end solutions for content branding and monetization. Members of the Liger Family will enjoy a full-service experience defined by creativity, authenticity and an uncompromising commitment to artistry.
To connect with Liger Enterprises, please visit:
Website: http://www.ligerenterprises.com
###
Media Contact:
Tony Ferguson / Tf.genius@gmail.com
310 882 3309