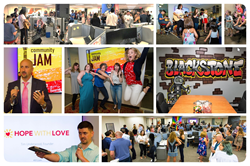 "The goal of our Community JAM event was to raise awareness for the DC HopeOneSource platform's important mission to help end homelessness in our Nation's Capital," Giles Kesteloot, Executive Director, Blackstone Federal
Arlington, Virginia (PRWEB) August 15, 2017
Young rock musicians, stand-up comedy and the HopeOneSource 'Wolf Pack Awards' highlighted Blackstone Federal's first-ever Community JAM, a celebration of the transformation and engineering agency's strong commitment to the local community. Humanitarian volunteers, artists, Blackstone Federal employees and community leaders packed Blackstone's dynamic headquarters in Arlington, VA, this past Saturday evening for a festive night that put the spotlight on a few outstanding local organizations.
A group of young, talented students from the School of Rock in Vienna, VA kicked the evening off with a few rousing sets of classic and pop rock hits as guests enjoyed beer provided by Port City Brewing in Alexandria.
And as a nod to Blackstone Federal's new partnership with Hope With Love, the local non-profit organization behind the DC HopeOneSource platform, Hope With Love's Executive Director Tim Underwood took the stage to present the HopeOneSource 'Wolf Pack Awards'. The awards recognized the exceptional support provided by the HopeOneSource platform's key sponsors and partners, including IEEE, Lockr Encryption and Blackstone Federal.
"The goal of our Community JAM event was to raise awareness for the DC HopeOneSource platform's important mission to help end homelessness in our Nation's Capital. With over 100 attendees and an evening full of passion and hope, I believe we achieved our goal," said Blackstone Federal's Executive Director Giles Kesteloot. "We've all been inspired by this important work and the impact it is already having on our community, and we look forward to continuing the partnership with DC HopeOneSource."
The evening was rounded out with some stand-up comedy by Blackstone Federal's own Glenna Gallagher, who joked that her routine has gotten worse because she loves her job so much.
"I haven't done stand-up in a while because my life is going well," Gallagher reasoned. "I love my job. I like my coworkers. That's not good stand-up material."
Gallagher is also one of several Blackstone Federal employees who volunteers with HopeOneSource's development team, for whom a code sprint was held in the afternoon before the Community JAM. As an official partner of Hope With Love, Blackstone Federal hosts regular code sprints to help speed the development of new features within the HopeOneSource platform.
To learn more about the DC HopeOneSource platform and how you can get involved to help prevent and end homelessness in DC, visit dc.hopeonesource.org/form/get-involved.
For more information about how Blackstone Federal can help transform your organization, or if you consider yourself a top engineer, please connect with us at level_up(at)blackstonefederal(dot)com.