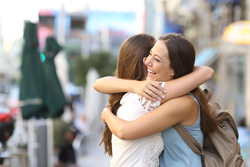 Los Gatos, CA (PRWEB) August 14, 2017
Silicon Valley entrepreneur Aparna Pujar launched Enfavr, an app that builds networks of friends one Favr at a time, in response to her need for help as a working mother. With the tap of an app, Enfavr facilitates the exchange of needed services, skills and time. Users exchange common daily activities such as babysitting, pet sitting, gardening help and more to accumulate Favrcoins by satisfactory completion of Favrs. Social capital is earned through a built-in Trust Score, a measure of Citizenship.
Feedback from Enfavr users is positive: "I was introduced to Enfavr by Aparna, the founder. The solution is quite compelling and definitely hits a sweet spot for me. Having two young daughters with working parents is tough! My husband and I spend a good chunk of time trying to figure out how we're going to manage our kids activities, plan date nights and manage life's scheduling snafus. Having a solution that helps me unlock the power of my community (guilt free) is huge! It provides a practical option to help me manage my life with a little more ease. Returning the favor also allows me to give back to my community and support those that need it when I can offer it. It's a win-win!" - Natasha
For more information, visit http://www.enfavr.com.
###
ABOUT APARNA PUJAR
Aparna Pujar has a proven background in technology, product management and general management. Pujar has launched several successful products while working at prominent Silicon Valley companies including Yahoo! and eBay! As a seasoned product leader and entrepreneur, her passion lies in products, product experiences and creative problem solving.