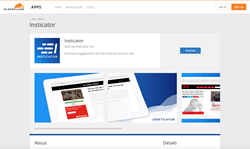 New York, NY (PRWEB) August 10, 2017
Insticator's award-winning platform is now a part of Cloudflare Apps, a free platform that enables developers to build applications that leverage Cloudflare's global infrastructure and distribute them to more than six million users on Cloudflare's network.
The Insticator app mimics the functionality of the Insticator Widget, a content-savvy publisher platform that increases website engagement and ad revenue. Downloading the Insticator app allows Cloudflare's community of six million websites to utilize Insticator's interactive Quiz, Poll and Story features, which extend visitors' time on web pages while prompting extra ad monetization to web and mobile properties.
Insticator's mission to improve publishers' experience within cyberspace ultimately encouraged its decision to partner with Cloudflare.
"Cloudflare's reputable track record of catering to publishers' performance needs and supporting its partners' success made us confident that our platform would provide substantial value to their users who are looking to further engage their audiences and monetize their sites," stated Zack Dugow, Insticator's founder and CEO.
The platform pairs well with Cloudflare's existing tools and services that specialize in helping Internet properties maintain performance, security, reliability, and insights.
"The Cloudflare Apps Platform allows third parties to develop applications that can be delivered across Cloudflare's edge to any of our more than six million current users," said Zack Bloom, Engineering Manager at Cloudflare. "We're excited to work with Insticator and other great developers who share our mission, and can create applications that help build a better Internet."
Insticator's inclusion in the Cloudflare community follows its acquisition of $5.2M in Series A funding, its Red Herring 2017 Top 100 North America win and its entrance into the 2017 Display LUMAscape.
Sites which are powered by Cloudflare, or are interested in learning more about Cloudflare, can find the app at https://www.cloudflare.com/apps/insticator. Sites outside of Cloudflare can check their eligibility to use Insticator's services by signing up on insticator.com or contacting contact(at)insticator(dot)com.
About Insticator
Insticator increases engagement and ad revenue for publishers through interactive content, while maximizing viewability and purchase intent for brands.
Founded in 2012, Insticator reaches more than 350 million visitors each month across its vast network of elite publishing partners including Warner Bros., Ancestry.com, Tribune Media, Legacy.com, Evolve Media, and CBS Interactive. Insticator empowers more than 6,000 content creators each month with its revenue and engagement increasing products, while providing revenue-generating content opportunities for publishers and brands. On average, Insticator increases ad revenue by an unrivaled 160 percent, and engagement by 44 percent for publishers' websites.
Insticator offers users a "Set-It-and-Forget-It" model, allowing publishers to focus on creating amazing content for their visitors, while leveraging the ability of the Widget to transform that content into revenue, brand awareness, and growth. Insticator's technology delivers a world-class solution for today's media-rich, and content-savvy publishing websites and advertisers.