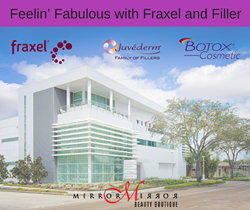 Houston,TX (PRWEB) August 10, 2017
HOUSTON, TX – Mirror Mirror Beauty Boutique is excited to announce the upcoming Feelin' Fabulous with Fraxel and Fillers event. Everyone is invited to stop by the office on Thursday, August 24th, from 4:00 p.m. to 7:00 p.m., for an afternoon of delicious food, live music, exciting prizes and special discounts. This much-anticipated Mirror Mirror Beauty Boutique event will highlight the Fraxel Laser and the Juvederm family of soft tissue fillers.
Feelin' Fabulous with Fraxel and Fillers is a chance for guests and their friends to learn more about the cutting-edge, noninvasive techniques available today at Mirror Mirror Beauty Boutique. Those in attendance will have an opportunity to have a private, mini-consultation with an aesthetic professional, to find out the right skin care regimen for their individual needs. Clients can tour Mirror Mirror Beauty Boutique's state-of-the-art facility and meet members of the aesthetic team, including practice founder, Paul Vitenas, MD FACS. Comprehensive information sessions about the Fraxel Laser, Juvederm and cutting-edge skin care treatments will follow.
Guests attending the Feelin' Fabulous with Fraxel and Fillers will enjoy a variety of delicious lite-bites, as well as a sampling of wine and music. Everyone will receive a goodie bag, complete with a $25 gift card for future purchases. Each guest will receive one raffle ticket for the drawings, to be held during each information session. Get an extra ticket by bringing a friend or making a purchase during the event.
Mirror Mirror Beauty Boutique and Vitenas Cosmetic Surgery were founded by Dr. Vitenas, a graduate of Tulane Medical School in New Orleans. Dr. Vitenas is a board certified plastic surgeon with close to 30 years of experience. A prolific writer and educator, Dr. Vitenas often presents at plastic surgery conferences across the country.
Mirror Mirror Beauty Boutique's Feelin' Fabulous with Fraxel and Fillers is open to everyone. However, space is limited so reserve your spot today. Call Mirror Mirror Beauty Boutique at 281.810.9083 for more information and RSVP for yourself as well as your friends. If you cannot make the party but are interested in finding out more about the Fraxel laser and the latest in soft tissue fillers, speak to a Mirror Mirror patient coordinator about scheduling your private consultation.