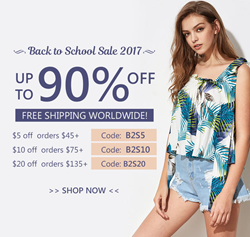 Pick a suitable swimsuit…It will give you a perfect shape!
(PRWEB) August 15, 2017
As the temperature rises continuously, swimwear in all the shopping malls has become the best-sellers. NOVASHE.com launched a Swimsuit Festival this week, starting the swimsuit sale season in 2017. 1000 styles of swimsuits on the website are of 30% to 70% off. Gorgeous styles, affordable prices. Among these various styles, some are similar styles to those which are sought after by some world-famous supermodels like Sara Sampaio, Stella Maxwell, Taylor Hill, Martha Hunt, Josephine Skriver and Imaan Hammam.
Global Fashion Swimsuit Trends 2017: which styles are the hottest ones, except the eternal hot spot - Triangle Bikinis?
1. One-piece Style with Hollowed-out Sides. One-piece swimsuits are the returned best sellers in recent years. And they pay attention to more details on the sides, using metal buckles, lace and strings to connect the front and back sides, which make it become the best choice for being sexy. Importantly, the hollowed-out side design makes it special and different.
2. Mini T-shirt Style. The design of swimsuits in recent years seems to be closer to the styles of daily-wear. Shoulder-cut and sports style swimsuits are popular in 2016 while it is intensified to T-shirt style with sleeves, kind of croptops to some extent. Flat and off shoulder design, which is popular in Spring Summer in recent years, has already been seen in the swimsuits.
3. New Material Appears. Lace and knitted fabrics, which shouldn't be put in water, are actually made into swimsuits now and some are made into cover-ups which can be worn together with swimsuits. But many people will not jump into the sea when they go to the seaside. They just take pictures with sexy poses, so who cares only if the pictures looks great.
4. Colorful Stripes. One-piece or high waist styles with lively and colorful stripes worth a try.
5. Extremely Simple and Modern Style. Ladies who are fond of special design and modern sense would definitely like extremely simple lines and geometric patterns, instead of exaggerated fluorescent colors popular in last year. Now simple design matters.
6. Single Shoulder One-Piece Style. One-piece style of one shoulder design gives an elegant streamline sense to the swimsuits, as well as gets rid of retro impressions of "Old Times". When you are done with playing at the seaside, just slip into a pair of pant and it can be taken as a bodysuit. It can be worn to dinner directly.
7. Strap Style. Lace-up styles, popular from Roman sandals to fashion and swimwear, will be one of the hottest styles this year, no matter it is thin straps or wide straps. The trend of the strap design will still continue this year. Just shop it now!
Know the fashion trends of swimsuit in 2017 and be the focus among beauties. Come to NOVASHE to choose your favorite swimsuit.