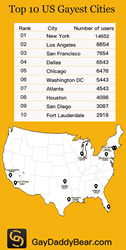 New York, NY (PRWEB) August 12, 2017
Recently, the popular gay daddy dating app DaddyBear has released a new report conducted by its team, clearly showing that which cities are the gayest in America.
DaddyBear, the premier gay dating app for gay sugar daddies and gay bears to connect with each other, has released a detailed map of gay demographics in the United States that reveals the top ten gay friendly cities across the nation. This is a good piece of news for both successful gay sugar daddies and young gay men who are desperately looking for a gay arrangement to find the right one in those gayest cities.
The survey was conducted by DaddyBear according to its member base and the percentage of the population identifying as gay in each city. From the data offered by the survey, New York ranks top of the list, followed by Los Angeles. San Francisco, Dallas, Chicago, Washington DC, Atlanta, Houston, San Diego and Fort Lauderdale. People in these cities are more likely to accept gay people, which offers many opportunities for them to hook up a gay sugar daddy or a gay sugar baby.
Moreover, while DaddyBear is doing research on the top ten gay friendly cities in the United States, it extends the scope to find out the top ten gayest countries in the world incidentally. Not surprisingly, the United States is by far the most friendly countries for gay men with most people who are seeking freedom of life. The survey shows that the U.S. takes a percentage of 38.8% in the whole data, which is much higher than the second countries - the United Kingdom that shares only 14.2%. The full list of the top 10 gayest cities goes as follows: the United States, the United Kingdom, Spain, Netherlands, Canada, Belgium, Germany, Norway, Australia and France.
For this report, the co-founder of DaddyBear Justin While says, "DaddyBear is by far the most friendly dating app for gay sugar daddies and gay bears to connect with each other. Our team is excellent and all our staff will spare no effort to make dating and hookup easier for those gay men who are seeking a gay arrangement. This survey is conducted to allow our members and all gay men to have a clear mind of which cities deserve their visits when they are looking for someone special in their life."
DaddyBear is the first dating app especially dedicated to gay sugar daddies and gay sugar babies. Claiming to provide a safe and private meeting platform for gay men, it is able to help them quickly find like-minded men for dating, hookup and also relationships. The app is available in App Store and you can download it for free.
DaddyBear is the first special dating app for gay sugar daddies and sugar babies. It is available to download free from the App Store.
Website: http://www.gaydaddybear.com/
IOS: https://itunes.apple.com/us/app/id1244767450