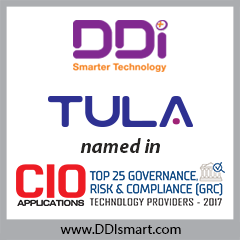 DDi simplified the complete risk management process right from identification to mitigation thereby providing high quality clinical data and reducing clinical operational costs
Princeton, New Jersey (PRWEB) August 12, 2017
DDi developed TULA for drug development and clinical programs to manage program performance, vendor oversight, risk control and compliance management in an integrated manner for holistic view in one tool. TULA provides centralized vendor/CRO performance information to organizations and helps them meet regulatory compliance and contractual obligations. TULA has helped several clients and the specific functions include Clinical Operations, Vendor Oversight, Project management and Risk management (including RBM programs)
In an attempt to further build on TULA, DDi provides proprietary Artificial Intelligence and Automation platform - YANA. The platform amalgamates robotic process automation, AI, machine learning, and digitization to identify risk and deliver flexible business operations. In addition to TULA, the company also extends products for clinical development such as mEDC, mIRT (RTSM), ClinMet (Analytics), dattasa (Trial Automation) and safeXchange.
"In drug development and clinical research area, taking appropriate action on a project or a program or a vendor on time is very important as each day lost constitutes to millions according to several industry studies done," asserts
Mahesh Malneedi, CEO, DDi.
As the Life Sciences industry is highly regulated and several compliance areas are to be followed at each stage, DDi provides solutions with an amalgamation of functional and domain expertise to cater to their global clients' needs. The firm brings in a single centralized system that enables organizations to develop a single source of truth to employ systematic enforcement of risk and compliance across enterprises. DDi provides a portfolio of products that enforces regulatory policies and minimizes the risk within the organizations.