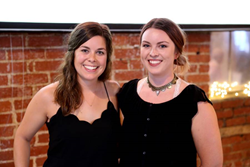 "We love seeing new countries, but even after a conscious effort to explore new places locally realized how many interesting places and sites were so close to home that we hadn't heard of or visited" Molly McShea, co-founder of Livalit Travel
Frederick, Maryland (PRWEB) August 14, 2017
Barbara Rice Tours has been a staple group travel company in the local community, and sisters Molly and Olivia McShea are excited to continue and grow the legacy as Livalit Travel.
After acquiring Barbara Rice Tours, Livalit Travel has launched adding day trips and new destinations to the already popular international and domestic multi-day tour offerings. Started by Barbara Rice and later run by her daughter, Pam, Barbara Rice Tours has been a part of the Frederick community since 1985. Barbara Rice Tours has recently taken groups to places near and far such as Australia/New Zealand, Fiji, the Canadian Rockies, Yellowstone, and New England. In the coming months, Livalit is offering day trips to places such as Longwood Gardens and Frank Lloyd Wright's Fallingwater and will also travel to new destinations to the Barbara Rice Tours community such as South Africa and the Galapagos Islands.
Founders Molly and Olivia McShea have both spent extensive amounts of time abroad, with a combined 56 countries visited. While at home and abroad both were always looking for new things to do and struggled to find one resource that provided options for both short and long trips. "We created Livalit Travel out of a frustration of not being able to find a company that offered both local activities and international adventures. We love seeing new countries, but even after a conscious effort to explore new places locally realized how many interesting places and sites were so close to home that we hadn't heard of or visited" says Molly McShea, co-founder of Livalit Travel. The company hopes to promote the belief that travel and experiences can happen no matter your budget or number of days off.
During the transition, rebranding will take place which includes a new name, website (http://www.livalit.com) and social media sites. The things that will not change are the 5-star customer service, incredible trips, and the hope to build a community with a love for travel. To learn more about Livalit Travel and their upcoming trips visit their website, http://www.livalit.com , e-mail them at hello(at)livalit(dot)com , or give them a call at 240.490.2702.
About Livalit Travel:
Livalit Travel is a Frederick, MD based travel company offering day trips and domestic and international tours. They strive to make travel accessible, intimate, and memorable. They accomplish this by offering multiple trip types, limiting overnight trips to small groups, and providing a complimentary photobook after comfort and adventure trips filled with memories from the tour.
For more information contact Olivia McShea, Livalit Travel, 240.490.2702 or olivia(at)livalit(dot)com.