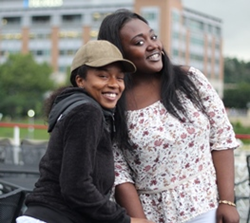 McKeesport, PA (PRWEB) August 10, 2017
What: Auberle's "At Home" rapid re-housing program was launched on July 1, 2017. Made possible through a grant from the Department of Housing and Urban Development, "At Home" helps homeless youth aged 18-24 find safe and affordable housing through case management, educational and vocational training, life skills training, and time-limited rental assistance. "At Home" partners with the Allegheny County Department of Human Services and operates out of Auberle's 412 Youth Zone, a drop-in center for at-risk youth located in downtown Pittsburgh.
In its initial month of operation, "At Home" obtained housing for three of its seven clients. At this rate, the program is well-poised to meet or surpass its goal of obtaining permanent housing for 85% of clients from July 1, 2017 through June 30, 2018.
Why: In 2010, the U.S. Interagency Council on Homelessness issued a goal of eliminating homelessness for families, youth and children by 2020. In response, rapid re-housing was introduced as a way to quickly place homeless individuals into permanent housing, eliminating traditional steps such as transitional housing and income/employment requirements. In 2014, the Allegheny County Department of Human Services released a report citing rapid re-housing as a viable option for decreasing youth homelessness. As a result, Auberle and other social service organizations consolidated efforts to better serve Allegheny County's homeless youth. As part of this effort, "At Home" offers unique, individually-customized case management to each client anywhere from nine months to two years.
Where: Auberle's 412 Youth Zone, 304 Wood Street, 5th Floor, Pittsburgh, PA 15222
Information: For more details, contact Aisling McIntyre, Auberle's Housing Resource Coordinator, at 412-855-1157.
About Auberle:
Since 1952, Auberle has been dedicated to community, strong families and successful youth. Auberle serves over 3,400 at-risk children and families annually in eight counties in southwestern Pennsylvania. Today, we offer 16 programs including preventative and community-based services, with about 60% of our clients served in their home, school or in their community. Auberle's services include residential care, foster care, emergency shelter, in-home intervention, education, workforce development, drug and alcohol and mental health programs. Auberle is a recipient of the Wishart Award for Excellence in Non-Profit Management and was named Agency of the Year in the United States by the Alliance for Strong Families and Communities, the largest network of human services organizations in the United States.