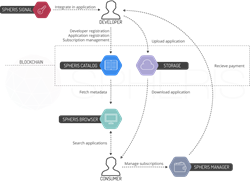 At first blockchain brought us monetary freedom. Now the time has come to reach development freedom with no censorship and ensure that developers will keep all their profits without being forced to pay middlemen corporations.
Netanya, Israel (PRWEB) August 10, 2017
Spheris is pleased to announce the official launch of their new multi-platform, open source Decentralized Application Marketplace. This innovative platform leverages blockchain technology, with the intention of revolutionizing the idea of application distribution by ending the reign of the centralized app stores controlled by large corporations. With the launch of Spheris, developers will have access to a free and uncensored app store that offers them hundred percent of the revenue as well as complete freedom in terms of development.
Distribution of apps has always been a major concern for independent developers. Over the years, they have been completely dependent on different software related marketplaces to reach out to their consumers. Although App stores provide them good exposure and payment related support, there is always a hefty price to pay. Moreover, developers are often left with no other option, but to compromise on the developmental aspects of their project to ensure the app's approval and acceptance by the marketplace.
Spheris has been designed to free the independent developers from the centralized authority of the app stores and their self-defined rules. This decentralized platform is free, open source, and extremely easy and comfortable to use. There is no need for any bank or credit card company when using Spheris, and there is no censorship for the developers. Unlike the traditional app marketplaces, Spheris is available to all developers regardless of their age or country.
Catalog, Browser, Manager, Signal, and Storage are the five basic components of Spheris. The platform utilizes tokens as the currency for purchasing and selling apps. It also offers options to lease applications on a per-day, month, or yearly basis. There are many other custom subscription options available with Spheris.
Some of the most important benefits of Spheris are:

Entry for all without any restrictions
No censorship or central authority
Members have the option to maintain anonymity
Instant money transfer
Ranking algorithms based on blockchain data to reduce malicious apps risk
Apps cannot be removed by anyone except for the owner
To find out more about Spheris, please visit https://spheris.io/
Email: pr(at)spheris(dot)io