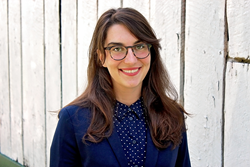 "Working every day with the historic records at the Archives pushed me into the landscapes where that history took place and the communities today that were forged and shaped by the context of the Civil War" Emily Huebner, Assistant Director
(PRWEB) August 14, 2017
The Heart of the Civil War Heritage Area welcomes new Assistant Director Emily Huebner. Huebner comes to the position after several years as a Research Archivist at the Maryland State Archives, where she collaborated on both the Study of the Legacy of Slavery in Maryland and the Maryland 400 Project. Through her work at the Archives, she contributed over the years to the Heart of the Civil War as a Newcomer House Porch Program presenter and as a guest blogger on the Heritage Area's blog, Bugle Call.
"Working every day with the historic records at the Archives pushed me into the landscapes where that history took place and the communities today that were forged and shaped by the context of the Civil War," Huebner said. She holds a Bachelor of Arts with honors from Goucher College in History, as well as Spanish Language and Literature.
According to Executive Director Liz Shatto, "Emily's passion for the work of the Heritage Area is evident in the engagement she is fostering as our social media manager, which is quite vibrant. " Additionally, she will serve as the Heart of the Civil War Heritage Area's mini-grant administrator. Area nonprofits and government entities will have the chance to get to know her this fall. The mini-grant program has an October 20 deadline this year.
A Frederick-native, Huebner is eager to return to the area and work alongside local stakeholders to promote the history of the region and fulfill the mission of the Heart of the Civil War Heritage Area.