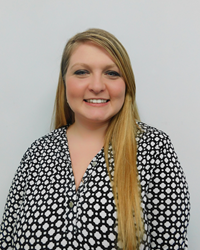 "This certification is a symbol of Crystal's dedication to community management and her excellence in the industry."
Greensboro/Winston-Salem, NC (PRWEB) August 11, 2017
Crystal Beaman, a new community manager at Association Management Group - Greensboro (AMG), one of the Carolinas' largest professional homeowner association managers, recently achieved the rigorous AMS (Association Management Specialist) certification. The AMS is a credential from CAI (Community Associations Institute), the industry's international membership organization dedicated to building better communities. The AMS credentialing process is an exhaustive program requiring two years of professional experience in association financial, administrative, and facilities management. Completion requires multiple management courses and passage of the comprehensive CMCA (Certified Manager of Community Associations) exam.
According to AMG President Paul Mengert, the impressive AMS credential signifies expertise, extensive knowledge, and the smart application of best practices in the field of managing townhome, condo, and single-family HOAs. "This certification is a symbol of Crystal's dedication to community management and her excellence in the industry," he said. "It will be an invaluable aid in her job of supporting the day-to-day operations of her portfolio of communities, including vendor oversight, paying bills, negotiating contracts, assisting homeowners, and advising volunteer Board members."
Beaman, who moved to the Triad area in June, and has a strong background in customer service, leadership, and financial management, was a community manager in Charlotte before joining AMG-Greensboro. "It was very rewarding to receive my AMS certification," she said. "The course work is challenging and it's a tough industry to learn. I was proud of myself for reaching this milestone and am eager to continue my education and pursue a PCAM certification down the road. I believe it shows our clients that I am experienced and dedicated to my professional development. I am numbers-driven and enjoy working on budgets; I find it very satisfying when I can find ways to save money or afford additional improvements for a community. I feel that AMG is a good fit for me because it is a very positive and supportive environment. " To learn more about AMG's community management services, email Beaman at cbeaman(at)amgworld(dot)com.
About Association Management Group, Inc.:
AMG is a professional community association management company dedicated to building effective community associations. AMG guides and assists executive boards to help protect the association's interests, enhance the lives of community members, and improve the property values in the community. With offices throughout the Carolinas in Greensboro, Winston-Salem, Charlotte and Raleigh, NC, and Greenville and Aiken, SC, AMG is a knowledgeable partner in enforcing community governing documents with a proven set of processes and techniques, and supporting communities with a broad range of services that can be tailored to individual community needs. Association Management Group, Inc. is a locally Accredited Business by the BBB and is a nationally Accredited Association Management Company (AAMC) by the Community Associations Institute. For more about AMG, visit http://www.amgworld.com.