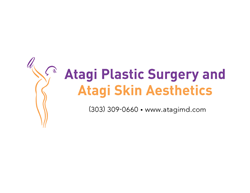 Lone Tree, CO (PRWEB) August 17, 2017
Tanya Atagi, MD, is excited to announce the addition of a non-invasive skin-tightening treatment called Exilis in Lone Tree, CO, at Atagi Plastic Surgery and Skin Aesthetics.
To tighten skin on the face, Exilis stimulates new collagen production deep within using a potent combination of radiofrequency and ultrasound energy. Smoother, younger-looking skin is revealed on all other areas of the body using radiofrequency energy.
Suitable for any skin type, Exilis is a comfortable treatment with no downtime or side effects. Each body part takes approximately 30 minutes to be treated. A series of four to six weekly treatments is recommended for optimal results lasting up to two years.
For more information or to schedule a consultation, call 303.872.5103.
About Atagi Plastic Surgery and Skin Aesthetics
Atagi Plastic Surgery and Skin Aesthetics is known throughout the Denver metropolitan area and beyond for exceptional service from a highly experienced and dedicated team. Acclaimed by patients for both the quality of their work and the most compassionate care, the staff at Atagi Plastic Surgery and Skin Aesthetics has been honored to serve clients for nearly two decades.
Committed to helping patients achieve total body health and beauty, Atagi Plastic Surgery and Skin Aesthetics provides a comprehensive selection of treatments, including plastic surgery, BioTE® bio-identical hormone replacement therapy, BBL™ Photofacials, fractional laser skin resurfacing, MicroLaserPeel™, Botox®, dermal fillers, laser hair removal, Ultherapy® skin tightening, Exilis skin tightening, Vanquish ME™ non-invasive fat removal, body contouring, and much more.
About Tanya Atagi, MD
Honored by her peers as "Top Doctor" in Denver's 5280 magazine for seven consecutive years, Dr. Tanya Atagi is one of only a handful of board-certified, female plastic surgeons in Colorado. She has built her practice based on a combined passion for medicine and arts, providing a unique yet ideal skill set for a plastic surgeon who is committed to helping patients look and feel their very best.
After completing medical school at Stanford, Dr. Atagi received her plastic surgery training from the Barnes-Jewish Hospital and Washington University in Saint Louis, followed by specialized fellowship training in Denver. She is board certified by the American Society of Plastic Surgery and has published multiple papers on a wide range of topics including nerve regeneration, implantable medical devices, and breast enhancement and the safety of implants.