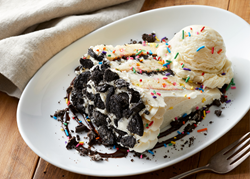 It's an honor for us to reach our 25th year serving our loyal guests.
(PRWEB) August 10, 2017
BRAVO Cucina Italiana, a national Italian restaurant chain, is celebrating its 25th anniversary with the return of the most popular appetizer from the original BRAVO Menu from 1992, a new birthday inspired dessert, and two new menu combinations that give guests a taste of what has made BRAVO so special for the past 25 years. In addition, to thank guests for their business, BRAVO Is launching a variety of 'sweet' deals and incentives for guests throughout the month of August playing on the theme of 25.
BRAVO was founded on the belief that there was a right way to create a fresh, authentic and delicious Italian menu. The popularity and success of the original BRAVO location in Columbus, Ohio, resulted in a period of growth that eventually led to the company going public as Bravo Brio Restaurant Group.
"It's an honor for us to reach our 25th year serving our loyal guests," said Brian T. O'Malley, President and Chief Executive Officer of Bravo Brio Restaurant Group, Inc. "We are proud to offer an exciting line-up of great new additions to our menu, as well as great incentives for guests to celebrate with us at one of our 49 restaurants across the country."
New menu items include:

o Grilled Portobello Mushroom: A true BRAVO original from the first ever menu. Herb marinated, garlic, spinach, diced tomatoes, creamy horseradish. $9.99

o Pasta Sampler Trio: Enjoy three of founding Chef, Phil Yandolino's favorites: Mama's Lasagna Bolognese, Cheese Ravioli, and a choice of Chicken or Shrimp Fra Diavolo. $16.99
o BRAVO's Mixed Grill – Chicken Griglia/Beef Tornedos: The best of both worlds. Two 2 oz. beef medallions over a Romano crusted tomato with house-made hollandaise, and our herb marinated chicken breast with lemon caper butter, mashed potatoes and haricot vert. $23.99

o Cookies and Cream Confetti Cake: Vanilla confetti cake layered with a chocolate cookie cream and vanilla bean gelato. $3.99
"As one of the founding members of BRAVO, it's been fantastic to see the restaurant grow and evolve over the past 25 years, said Philip S. Yandolino, founding Chef of Bravo Brio Restaurant Group, Inc. "The Grilled Portobello Mushroom was one of my original creations from our very first menu. I'm excited for it to make its grand return during this celebration – I'm sure guests will love it as much today as they did two decades ago."
To extend the celebration, BRAVO will also offer guests a sweepstakes with a chance to win some 25th anniversary-themed prizes, including:
Free BRAVO for a year
$25 gift cards
25% off a future visit
$0.25 appetizer
BRAVO is also launching a fundraising campaign for No Kid Hungry where every $1 raised can provide 10 meals and put an end to childhood hunger in America. From Aug.8 – Sept. 5, 2017, BRAVO diners will have the option of rounding up their bills to help children in need.
Visit http://www.bravoitalian.com for more information.
About BRAVO Cucina Italiana
BRAVO Cucina Italiana is a "polished casual" restaurant offering classic Italian food amongst the shadows of Roman ruins. The subtitle "Cucina Italiana" means Italian kitchen, in which all cooking is done in full view of the guest, creating the energy of a live theater. BRAVO's popular entrees include grilled steaks, chops, and fresh seafood, as well as flatbreads, pizzas and salads, similar to what one would find in an authentic "ristorante" in Italy. BRAVO is part of Columbus-based BRAVO I BRIO Restaurant Group. Founded in 1992, BRAVO I BRIO Restaurant Group currently operates more than 100 restaurants in 33 states including BRAVO Cucina Italiana, BRIO Tuscan Grille and Bon Vie Bistro. Please visit BravoItalian.com for a list of locations, and to follow the restaurant on Twitter (@bravo_italian) and Facebook (facebook.com/bravoitalian).
About Bravo Brio Restaurant Group, Inc.
Bravo Brio Restaurant Group, Inc. is a leading owner and operator of two distinct Italian restaurant brands, BRAVO Cucina Italiana and BRIO Tuscan Grille. BBRG has positioned its brands as multifaceted culinary destinations that deliver the ambiance, design elements and food quality reminiscent of fine dining restaurants at a value typically offered by casual dining establishments, a combination known as the upscale affordable dining segment. Each of BBRG's brands provides its guests with a fine dining experience and value by serving affordable cuisine prepared using fresh flavorful ingredients and authentic Italian cooking methods, combined with attentive service in an attractive, lively atmosphere. BBRG strives to be the best Italian restaurant company in America and is focused on providing its guests an excellent dining experience through consistency of execution.