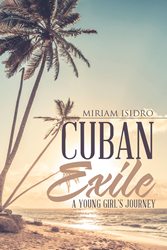 STAMFORD, Conn. (PRWEB) August 14, 2017
With the United States gradually reopening diplomatic relations with Cuba, it is more important than ever to look back at the past to understand the present and plot a path to a better future. Miriam Isidro shares her own family's story in "Cuban Exile: A Young Girl's Journey."
Isidro was born in 1953—the same year that a revolution erupted in Cuba. Rebels wanted to overthrow then-president Fulgencio Batista, who left the island January 1, 1959, marking the end of the life that Isidro knew. Parades were held throughout Cuba, and many welcomed Fidel Castro as a bearded savior who would answer their prayers. Others, however, left as soon as they could.
"I journeyed to America with my family in the early 1960s and grew up in a small town, where there were few people like me, and I had to embrace this new country, language, and culture in a short time," said Isidro. "I wrote this book for my children, so that they would know the sacrifices made to ensure survival and to know what a blessing and privilege it was for our family to be allowed to come to this country."
Based on her experiences as a young girl who fled Cuba, this personal and touching story takes the reader through Isidro's tumultuous journey to her new life in an unfamiliar country and culture, eventually leading her to the American Dream.
"Cuban Exile: A Young Girl's Journey"
By Miriam Isidro
ISBN: 9781483469713 (softcover); 9781483469706 (eBook)
Available on Lulu Press, Amazon and Barnes & Noble
About the author
Miriam Isidro is a naturalized American citizen who was born in Havana, Cuba. After overcoming many obstacles, she became a teacher and an elementary school principal. A Roman Catholic, Isidro is married with three children. Most of her writing is based on her own experiences.
Review Copies & Interview Requests:
LAVIDGE – Phoenix
Bryan Beach
480-306-6554
bbeach(at)lavidge(dot)com
General Inquiries:
LAVIDGE – Phoenix
Chris Peña
480-306-7065
cpena(at)lavidge(dot)com