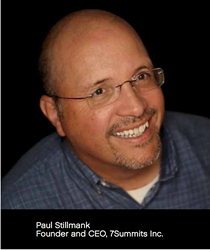 Online communities are not just an afterthought or bolt-on solution; rather, they are the centerpiece for engaging a company's target audience and when approached in this manner, drive tremendous top- and bottom-line benefits
Milwaukee, WI (PRWEB) August 16, 2017
7Summits incorporates its solutions to deliver leading edge community experiences from its pre-built templates to custom communities expertly designed to achieve digital transformation for their clients' businesses. They help craft the right blend of digital strategy, community technology solutions and targeted user experiences to deliver maximum results.
"Social technologies represent the next major evolution to drive business value for the enterprise," explains Paul Stillmank, Founder and CEO. "Online communities are not just an afterthought or bolt-on solution; rather, they are the centerpiece for engaging a company's target audience and when approached in this manner, drive tremendous top- and bottom-line benefits."
In the article, 7Summits shared their vision for community-led, multi-cloud solutions centered around those three audience groups:
Customers Empowered: Customer communities focus on connecting advocates with prospects to improve conversion rates; enabling customer-to-customer support to deflect calls; creating exclusivity and personalization to improve customer retention; collaborating directly with the enterprise through always-on customer feedback to inform product/service innovation; and enabling proactive customer support models that improve overall customer satisfaction.
Partners Enabled: Partner networks focus on streamlining education to speed partner on-boarding; finding experts and resources to improve win rates; enabling better lead matching to improve channel performance; and improving partner identity in the market to help expand market share.
Employees Unleashed: Employee centric communities focus on providing an accessible and served knowledge base to increase productivity; enabling open communications to improve workforce alignment and engagement; better empowering sales teams resulting in improved win rates; and crowd-sourcing ideas to drive actionable innovation.
With community solutions for customers, partner networks, and employees, as well as industry specific solutions, 7Summits has been recognized as a leader in delivering business value and innovative solutions.
The Silicon Review's 50 Best Companies to watch 2017 list identifies companies that provide innovative enterprise solutions by established solution providers and upcoming hot enterprises for technology decision makers. Read the full interview here.
About 7Summits
7Summits Inc. is a leading online community solutions provider, guiding companies to engage their customers, partners and employees to grow their business and become more fully networked enterprises. 7Summits creates business solutions that deliver top line revenue growth and bottom-line productivity improvements. The company is a valued strategic partner of Fortune 500 companies and has received investment funding from both Sverica Capital Management and Salesforce Ventures. 7Summits is headquartered in Milwaukee, Wisconsin with an extended presence in Chicago, Atlanta, New York, Denver, Washington DC, California, Seattle, and Michigan and Ohio. For more information, visit 7SummitsInc.com
About Silicon Review
The Silicon Review is the world's most trusted online and print community for business & technology professionals. Their community members include thought-provoking CEOs, CIOs, CTOs, IT VPs and managers, along with a diverse following of IT professionals.
7Summits is a registered trademark of 7Summits. All other trademarks, registered trademarks and service marks are the property of their respective owners.