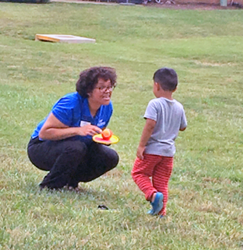 (PRWEB) August 11, 2017
Andrews Federal Credit Union recently lent several helping hands to Fairfax County's Summer Lunch Bunch program.
According to the program's website, more than 52,000 children are on the free/reduced lunch program funded by the USDA. While the Fairfax County Food and Nutrition Services (FCFNS) does a great job feeding children through the USDA's Summer Food Services Program, those who do not attend summer school or summer camp, or do not live close to where the food trucks are stationed are often at a disadvantage due to a lack of transportation.
This is where the Summer Lunch Bunch program comes in. Lunches are funded by the USDA and prepared and packaged by school food service professionals. Program volunteers pick up meals from a central distribution point and deliver them to designated lunch location. This year, Andrews Federal Credit Union Springfield and West Springfield Branch staff delivered meals to multiple locations in Springfield, Virginia.
"We will always do our part to make an impact on the communities we serve," said Enola Thaboun, Springfield Branch Manager. "Those of us who are in a position to give should always be willing to do so. We have been blessed to be a blessing."
About Andrews Federal Credit Union
Andrews Federal Credit Union was founded in 1948 to serve the needs of military and civilian personnel by providing a vast array of financial products and services. With over $1.5 billion in assets, Andrews Federal has grown to serve more than 120,000 members in the District of Columbia, Joint Base Andrews (MD), Springfield, Virginia (VA), Joint Base McGuire-Dix-Lakehurst (NJ), and military installations in central Germany, Belgium, and the Netherlands. In addition, the Credit Union serves as a financial partner with many select employee groups in Maryland, the District of Columbia, Virginia and New Jersey.
To learn more about Andrews Federal Credit Union and its community involvement, or to become a member, call 800.487.5500 or visit http://www.andrewsfcu.org.