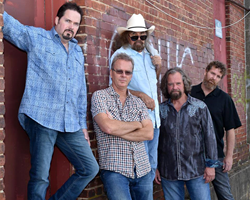 Hamlin WV (PRWEB) August 10, 2017
The Artimus Pyle Band will be headlining the 2017 Heat in the Hills ChiliFest on Saturday, August 26 at 8 p.m. on the grounds of Lincoln Primary Care Center in Hamlin, WV. Local Favorite, The LC Band will perform before The Artimus Pyle Band.
Rock and Roll Hall of Fame Member Artimus Pyle is the former drummer of the legendary Southern Rock icons Lynyrd Skynyrd. Pyle joined Lynyrd Skynyrd in 1974, performing on all the hits including Freebird, Sweet Home Alabama, Call Me the Breeze, Tuesday's Gone, Saturday Night Special, What's Your Name, Simple Man and many more classic tracks.
Pyle survived the plane crash of 1977 that killed band members Ronnie Van Zant, Cassie Gaines, and Steve Gaines, as well as the two pilots. Although he suffered several broken ribs and other injuries, Pyle walked over a half a mile through snake and alligator infested swamp lands to get help for the other survivors after the crash. Pyle's bloody appearance frightened locals, who met him with a gun until the fire department arrived. The surviving members of Lynyrd Skynyrd credited Pyle with saving their lives.
Pyle says The Artimus Pyle Band isn't just a tribute to Lynyrd Skynyrd. It's a tribute to the man who defined the band and its classic sound: Ronnie Van Zant.
In 1987, Lynyrd Skynyrd reunited with Gary Rossington, Billy Powell, Leon Wilkeson, Artimus Pyle, Ed King, and Johnny Van Zant, Ronnie's younger brother, as the new lead singer. Pyle performed with them until he left the band in 1991.
"If it wasn't for Ronnie, no one would know my name," Pyle said.
The 2017 edition of Artimus Pyle Band includes some of the most seasoned musicians in the Southeast, working with some of the biggest names in the music industry, including Kenny Chesney, John Michael Montgomery and Quiet Riot. The Artimus Pyle Band set will feature Lynyrd Skynyrd's greatest hits performed in the original style of the "classic" lineup which featured Artimus Pyle, Ronnie Van Zant, Steve Gaines, Leon Wilkeson, Billy Powell, Gary Rossington and Ed King.
Heat in the Hills ChiliFest begins Saturday at 2 p.m. with family fun, face painting, inflatables, a visit from Batman, The LC Band at 6 p.m., The Artimus Pyle Band at 8 p.m. and fireworks immediately following The Artimus Pyle Band!
The No-Cost weekend event kicks off Friday, August 25 with the Lincoln County Health Fair from 10 a.m. to 3 p.m.
For the full Heat in the Hills schedule, visit http://www.heatnthehills.com/. For more about The Artimus Pyle Band, visit http://www.artimuspyleband.com/.
For Artimus Pyle interview requests or more information, contact Burke Allen at 703-589-8960, or Burke(at)allenmediastrategies(dot)com.