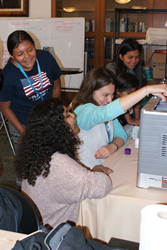 Campbell, CA (PRWEB) August 10, 2017
This summer, Howard and Lynn Behar sponsored two weeks of Girls in STEM at Alexa Café held at Caltech University. The first 14 girls from George Washington Carver Middle School attended the week of July 17, and another 24 girls from Hollenbeck Middle School attended the week of July 24th.
"We are happy to partner with iD Tech each summer to bring coding and technology classes for students to Caltech. This year we're especially excited to welcome Alexa Café to campus," says Mitchel J. Aiken, Associate Director for Educational Outreach at Caltech. "The unique opportunity the program provides for girls to explore these fields, tied to projects they're truly excited about, is quite compelling."
Alexa Café, a division of iD Tech, is a girls-only environment led by female instructors where girls learn coding, engineering, game design, and more, with a special focus on developing their leadership, entrepreneurship, and social activism skills. "In one week, you'll see young women creating an anti-bullying video, a nature conservation website, a 3D-printed table top soccer game, and so much more," says Charlie Freund, Territory Manager for iD Tech.
The gender gap in STEM fields is pervasive and persistent, but iD Tech has been committed to closing that gap since it was founded in 1999 by mother-daughter duo Kathryn Ingram and Alexa Ingram-Cauchi. The company has increased the number of girls enrolled across all divisions from 14% in 2013 to 25% in 2017, with the ultimate goal of 50/50 gender parity.
"At the Partnership for Los Angeles Schools, a network of 18 schools including Carver and Hollenbeck, we are committed to increasing out-of-school experiences for our students," says Virginia Lee, director of family and community engagement. "The Partnership is grateful to the Behar family and our partners at iD Tech for making this dream a reality."
"Alexa Café supports our efforts to broaden the STEM pipeline," continues Mitchel J. Aiken. "To offer this opportunity to girls from Partnership for Los Angeles Schools is particularly gratifying. We join iD Tech in thanking Howard Behar for making this experience possible for these deserving girls."
About iD Tech
iD Tech is the leader in summer STEM education programs for students ages 6–18. Over 300,000 students have attended iD Tech since 1999. Camps are held at over 150 prestigious campuses in the United States, including Stanford, UCLA, Harvard, and many others. In addition to its flagship program, iD Tech Camps, the company offers four distinct divisions all aimed at delivering innovative technology experiences to the next generation—one student at a time. Learn more at http://www.iDTech.com.
About the Partnership for Los Angeles Schools
The Partnership for Los Angeles Schools is a non-profit focused on transforming many of LA's highest-need public schools and piloting innovations that can be scaled across the Los Angeles Unified School District. Launched in 2007, the Partnership serves approximately 14,500 students across 18 campuses in Watts, Boyle Heights and South Los Angeles. The Partnership's model features innovative instructional leadership programs, highly effective teaching and authentic community partnerships and family engagement. The Partnership works within the Los Angeles Unified School District context, which includes honoring all collective bargaining agreements for its teachers. Learn more at http://www.partnershipla.org.