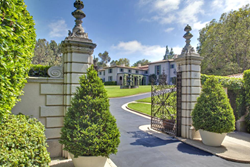 Pompano Beach, Florida (PRWEB) August 11, 2017
"Hollywood's Historic Owlwood Mansion"
Los Angeles has Hollywood and the nearby Platinum Triangle where many extravagantly wealthy film moguls, top actors and industry CEOs call home. The Triangle contains three adjacent affluent neighborhoods that include Bel Air, Holmby Hills and Beverly Hills. Although there are other neighborhoods in Los Angeles equally as wealthy, the Platinum Triangle is closer to downtown Los Angeles and the studios and has easy access to the best restaurants and shopping such as Rodeo Drive.
Referred to as "The Crown Jewel of Holmby Hills," one property stands out. The classic Tuscan-styled mansion was built in 1935 by Robert D. Farquhar for Florence and Charles Quinn. Florence was divorced from Arthur Letts who, in 1925, was the original owner of the 3,296 acres of land on which Holmby Hills is located and was the neighborhood's first developer. After their divorce and Letts' death, she married Charles Quinn from San Francisco and they returned to Holmby Hills where she commissioned the house to be built. Completed in 1936 on four acres, it was the largest and most luxurious house at the time, measuring in at 12,000 square feet at a cost of $150,000. It was later given the name Owlwood due to the number of owls inhabiting the many trees on the grounds.
With a long list of interesting owners, scandals and intrigue ran rampant. During the tenure of 20th Century Fox co-founder Joseph Schenck, Marilyn Monroe was said to spend much time there and at only 21 was living in the guest house. Tony Curtis, who had been buying larger and larger houses as his success increased, said he would never have believed that he could own such a masterpiece home, but he died a short time later. Cher wanted the mansion as soon as she saw it when attending a party Curtis gave, but had to wait seven years before it was available. As soon as she and Sonny moved in, their relationship turned south and though they wanted to live separate lives, they were in the middle of their "Sonny & Cher Comedy Hour" and CBS said they would cancel the show if either moved out.
New to the market at $180 million, the infamous and beautiful Owlwood is a Zen-like escape from the bustling city below. The ambiance and tranquility both inside and out makes it the perfect place for a high-powered executive to quickly decompress at the end of a trying day. It is also ideal for entertaining family, friends and wowing international business interests. Taking its place among the world's outstanding classic residences, the old-world craftsmanship, oak paneling, carved moldings, impressive grand foyer, spacious rooms and park-like grounds for strolling are universally appealing. The main residence includes stately public rooms, multiple fireplaces and chandeliers and has nine bedrooms and ten baths. Grounds contain two guard houses, a pool, pool house, fountains, fruit trees and restored formal gardens. The listing agent is Adam Rosenfeld of Mercer Vine in Los Angeles.
Visit TopTenRealEstateDeals.com for more historic, celebrity and spectacular homes and real estate news.