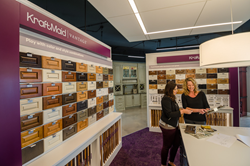 Homeowners love the hands-on experience of the Design Studio. It's essentially a playground for pulling colors and styles together. The homeowner can quickly make design decisions and keep their renovation project moving forward.
North Royalton, Ohio (PRWEB) August 16, 2017
What ambitious homeowner, enthusiastically setting out on a major remodeling project, won't at some point feel overwhelmed by today's vast and growing array of fittings and furnishings for the kitchen and bath?
There are so many styles, colors, materials, finishes, and accessories to choose from.
This feeling of "options overload" especially arises when today's Internet-savvy consumers begin to pre-shop for home improvement products online.
The situation calls for a kitchen and bath showroom that greatly simplifies and builds confidence in the process of selecting products and deciding on the design. But where to find it?
Good news! The Cleveland area's homeowners now have exactly this kind of "easier, faster, better" kitchen and bath design center. The region's remodeling professionals and interior decorators are excited to welcome the groundbreaking new showroom's arrival too.
This Saturday's grand opening and open house at Freedom Design Kitchen & Bath's newest showroom, in North Royalton, will highlight how this long-preferred resource for the area's home remodelers has significantly stepped up the product selection and design process with the KraftMaid Vantage® Design Studio.
Freedom Design's aim with the new showroom, their second in the Cleveland area, is to help homeowners achieve their dream kitchen and bath designs more easily, quickly, and confidently than ever before. The Design Studio is key to making this happen. Within its innovative display and work spaces, the homeowner can see, touch, and compare products, and collaborate with the designer to visualize colors and door styles for their new kitchen or bath.
The Design Studio is centrally located in the showroom to create an ideal environment for engaging homeowners and designers in their collaborative selection and design process.
See and Learn the Way to a Better Design
The grand opening and open house will happen this Saturday, August 19, from 9 am to 4 pm in Freedom Design's new North Royalton showroom at 6285 Royalton Rd.
Staffers from all of Freedom Design locations will participate in the event. The company has another showroom in Stow, also featuring the KraftMaid Vantage Design Studio, and offices in Hudson. Overall, Freedom Design employs 14 people.
Also on hand for the grand opening and open house will be Sarah Reep, KraftMaid(R) Cabinetry's Director of Designer Relations and Education. Reep, a Master Certified Kitchen and Bath Designer, will answer attendees' questions about design trends, how to personalize the kitchen or bath design, and working with the designer for best results. She is an internationally recognized thought leader and consultant in kitchen and bath design and showroom strategy. Reep regularly writes for Kitchen & Bath Design News and has served as an expert advisor to ABC-TV's Extreme Makeover: Home Edition.
Anyone with interest in home remodeling and enthusiasm for design is welcome to attend the new showroom's grand opening and open house. Light refreshments will be served.
New Strategies for a Shifting Market
Owner and president Bill Staycheff founded Freedom Design in 2002 after nearly a quarter-century of success in sales for window, door, and cabinet manufacturers. "Our new showroom and Design Studio," he says, "are the natural outgrowths of our evolving business strategy."
Staycheff explains: "We started out primarily serving home builders and contractors. That's where we got about 80 percent of our initial business. But we began to see our market shift. Builders were increasingly turning to commodity suppliers. Then came the Great Recession and a near halt to new home construction. Our future clearly pointed to homeowners and remodeling specialists. They're the people who most value our product lines and personalized services."
Indeed, the by-category breakout of Freedom Design's clientele has almost completely inverted over the years. "Today," says Staycheff, "about 90 percent of our sales come from homeowners and remodeling specialists. They look to us for cabinets, countertops, tiles, fixtures, flooring, and appliances – and, of course, for their custom kitchen and bath designs."
Along the way, Freedom Design has significantly reformulated their location and merchandising strategies. Per Staycheff, "When we used to focus on builders and contractors, we could afford to be in an industrial park or another out-of-the-way place. People could find us when they needed us. But that doesn't work with our retail homeowners today."
Staycheff continues: "Homeowners need to see us and get drawn in. That's why we moved to our North Royalton and Stow showrooms. They're in highly trafficked areas, with clear visibility. Homeowners who are looking for us can easily find us, and other homeowners who are passing by may become interested and stop in."
Dedicated Space for Design Collaboration
Freedom Design's showrooms, with their KraftMaid Vantage Design Studios, tell a distinctly Northern Ohio story of business success. KraftMaid cabinets are manufactured in Middlefield, Ohio, only an hour's drive from the Stow and North Royalton stores. "Homeowners love to support the local community," Staycheff says. "They also like the family feeling here." Staycheff's son Mark helps him lead the business, and many employees have been with the company from the start.
From KraftMaid Cabinetry's perspective, Freedom Design has been practically the perfect test case for the Design Studio concept, which the cabinetry manufacturer recently began rolling out after several years in research and development. KraftMaid offers the Design Studio in a range of sizes and configurations to fit the varying spaces of their KraftMaid Vantage dealers' showrooms.
The Design Studio puts samples of a strategically selected set of KraftMaid products – the hottest new styles along with the best sellers – at the fingertips of the customer and designer as they collaborate. The display can feature samples of up to 152 colors, 78 door styles, and 93 hardware accessories, depending on which Design Studio configuration is installed.
All product samples are easily removed for comparing and combining in color and design palettes. This lets the homeowner see, touch, and feel – for real – what they have likely already explored online.
At the Design Studio's center is a collaborative design table with comfortable chairs. From the lowered ceiling panels above, a pendant lamp controls brightness for viewing styles and colors accurately. The ceiling panels also work to muffle distracting sounds from outside the studio. Special flooring in the signature KraftMaid Cabinetry aubergine color helps set the space apart from other showroom activity.
A Kitchen or Bath to Fall in Love With
"Homeowners love the hands-on experience of the Design Studio," says Karen Brawn, Director of Marketing for KraftMaid Cabinetry. "It's essentially a playground for pulling colors and styles together. The homeowner can quickly make design decisions and keep their renovation project moving forward."
The KraftMaid Vantage Design Studio helps Freedom Design deliver on their promise to provide the Cleveland area's best one-stop shopping resource for the kitchen and bath. The display easily installs as a turnkey solution, and can be easily updated as KraftMaid Cabinetry's product line changes.
Bill Staycheff says, "We've watched as homeowners walk in, engrossed in their smart phones or conversations. They look up at the Design Studio, they like what they see, and they begin engaging with the display and our designers. It's the right shopping experience. The Design Studio starts the homeowner on their way to a kitchen or bath design they can fall in love with."
About Freedom Design Kitchen & Bath
More information about Freedom Design Kitchen & Bath can be obtained by contacting the company's headquarters at 5115 Hudson Dr., Hudson, Ohio 44236. Phone: 330-342-0584. Email: info(at)freedomdesignllc.com. Online: http://www.freedomdesignllc.com. To stay up to date on the latest news from Freedom Design, visit the company's Facebook and Houzz pages.
About KraftMaid
KraftMaid Cabinetry is a leading manufacturer in the semi-custom cabinetry industry, designing and building kitchens for the way that people actually use them. Since 1969, KraftMaid Cabinetry has carefully observed how people live, and has responded with innovative product design that allows any homeowner to create a kitchen that serves as the true "living room" in their home, regardless of their budget or how they live their lives. KraftMaid brand cabinetry is backed by a limited lifetime warranty.
KraftMaid and KraftMaid Vantage are brands and registered trademarks of Masco Cabinetry, LLC. Merillat(R) cabinetry is another brand and registered trademark of Masco Cabinetry.
Learn more from Masco Cabinetry at 4600 Arrowhead Dr., Ann Arbor, Mich. 48105. Phone: (517) 263-0771. Email: info(at)mascocabinetry.com. Online: http://www.kraftmaid.com, http://www.merillat.com, http://www.mascocabinetry.com.