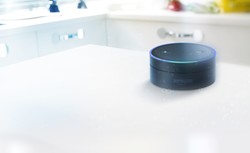 Voice is the next user interface and home healthcare is arguably the most important frontier for its application.
Boston, MA (PRWEB) August 10, 2017
Orbita, Inc., a leading provider of voice-first software for connected experiences, announced that it has teamed with Libertana Home Health, the largest manager of California-based health and housing waivers, to deploy a first-of-its-kind home care solution using Amazon Alexa voice assistant technology. Libertana is using Orbita Voice, an enterprise-grade software platform for creating and maintaining conversational voice applications for Alexa, to engage individuals in managing activities of daily living and self-care, and more effectively inform home care professionals in triaging care needs and aligning care delivery.
Libertana has tested Orbita-powered Amazon Echo Dots with a select group of residents who use the voice assistant to report vital data, such weight, blood pressure or blood sugar levels, hear medication and exercise reminders, request help from a home care professional, coordinate transportation, and learn about social or recreational activities.
"In our efforts to empower individuals to live independently, Libertana's had significant success with out-of-the-box approaches. We see great value in the capabilities of voice to address a full range of health and living needs for seniors and disabled individuals," said Jonathan Istrin, Libertana executive director. "Loneliness, for example, is a huge variable impacting health. At a minimum, if a digital assistant can help break the loneliness cycle, we come out ahead. Beyond this, the possibilities seem nearly endless."
By enhancing engagement and compliance, voice experiences can contribute to improved outcomes, said Debra Harrison, RN, Libertana's public subsidized housing manager. "Voice assistants overcome challenges for individuals who, due to physical limitations, cannot use a keyboard or touch screen. They also improve patient satisfaction with more natural, engaging experiences that eliminate the "monitoring" stigma of other connected devices, while still providing the data-driven insights that improve caregiver response in moments of need and intervention. Finally, they reduce costs by keeping patients at home and away from more costly clinical care settings."
"Voice is the next user interface and home healthcare is arguably the most important frontier for its application.", said Orbita CEO, Bill Rogers. "Libertana's application is an excellent use case for voice technology and we're extremely pleased with how fully they've embraced our technology."
About Libertana Home Health
Libertana has provided professional home care services to thousands of individuals for more than 15 years. Libertana Home Health collaborates with public and private agencies to help find housing for homeless persons and for individuals experiencing complex medical and behavioral health conditions, and to help them live independently within community settings. Libertana provides care coordination/management, assisted care services to manage daily living and clinical services for intermittent skilled nursing care and rehabilitation therapies. http://www.libertana.com
About Orbita, Inc.
Orbita helps organizations in healthcare and other industries leverage voice as the next digital frontier to improve process, build brands, engage users, and drive commerce. Orbita's software is used to design, build, and manage next-generation voice assistants based on Amazon Alexa, Google Assistant, and other voice application services. The company developed a first-of-its kind natural language engagement engine that enables anyone, regardless of technical skill, to easily create and maintain highly engaging, intelligent conversational voice experiences. http://www.orbita.ai
Contact: Beth Strohbusch, Orbita PR Director, beth(at)orbita.ai, +1 (414) 213-8818
###