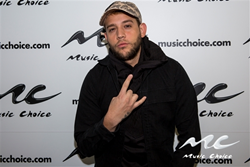 (PRWEB) August 16, 2017
Music Choice continues its promotional partnership with VidaPrimo, the premier digital Latin Music video network, with the platform's first co-curated playlist highlighting Latin Music's hottest subgenre. Starting today, the two music powerhouses will join forces to bring the popular underground genre Latin Trap to TV for the first time. Until now, the popular subgenre of Latin Urban music has only been seen through viral videos, social media and concerts. It has been fueled by artists such as Messiah, Ñengo Flow, Bad Bunny, Ozuna, Anuel AA and many more.
Luis Rivera, Program Director, Latino Music & Video Channels at Music Choice stated: "In the last year, we have seen Latin Trap music explode before our eyes on social media, and VidaPrimo has been an important advocate for the genre. We are thrilled to be bringing it to TV for the first time on Music Choice On Demand."
Gaby and Buda, Messiah's Management stated: "Latin Trap is now the sound of the Latino youth from Carolina in PR to the streets of Washington Heights in NYC. This fresh new sound is making waves across all boarders north and south of the US. The Music Choice/VidaPrimo partnership not only offers our artist Messiah a mammoth network to help him reach and expand his fan base; it also provides his fans a whole new interactive way to connect with him, his music, content, and videos. This is something difficult to accomplish at traditional Latin radio, due to their limited space in programming for these kind of artist and their music."
"VidaPrimo is excited to work with Music Choice to offer Latin Trap artists a huge platform to premiere their songs and music videos on TV and other platforms," said Stephen Brooks, EVP and GM of VidaPrimo. "This is a big step forward for Latin Trap music and giving it the credibility it deserves."
Music Choice will air a dedicated Latin Trap music video playlist On Demand entitled "Spanish Trap Hits" co-curated with VidaPrimo. Music and videos from VidaPrimo's top Trap artists will also be integrated into the rotation on Music Choice's Musica Urbana music channel. The programming is designed to highlight the most important and relevant artists in Latin Trap music while promoting the hottest and newest releases. (Directional: Music Choice On Demand>All Playlists)
The first artists and videos featured in the Latin Trap Hits Playlist include:

Ozuna "Tu Foto"
Messiah "Ay!"
Lary Over "Tu Me Enamoraste"
Jory Boy "No Te Hagas"
Nengo Flow "Hoy"
Jon Z "0 Sentimientos"
Darell "Blanco"
Ñejo "Ponte Pa Mi"
Ozuna "Me Ama, Me Odia"
Anuel AA "Sola (Remix)"
Fans are encouraged to support their favorite artists by watching videos in the playlist and sharing with their friends on social media.
For Music Choice, VidaPrimo not only represents a strong consumer brand in Latin video content, but also brings its sales expertise onto the platform, allowing brands to connect with Latin Millennial consumers on any device. Additional VidaPrimo music videos, playlists and exclusive artist content will launch on Music Choice channels throughout the year.
Music Choice offers a robust platform for fans of Latin music, including the largest destination On Demand for Latin music videos, seven Music Channels, and four Video Channels available on your TV and on the go via the Music Choice app. Music Choice also has a robust Latin Tier available on several MVPD's including Xfinity Latino, Verizon FiOS, Charter en Español and many more.
Get Music Choice on all your devices, and find out more at app.musicchoice.com
About VidaPrimo:
VidaPrimo is a global media company that provides advertisers access to an exploding marketplace of US and Latin American Millennials as they consume the hottest content in the young Hispanic culture. Through agreements with more than 120 of the hottest Latin Rhythm artists, VidaPrimo is one of the largest Latin Music Multi-Platform Networks with presence across YouTube, Dailymotion, Amazon Video Direct and its owned and operated platform on VidaPrimo.com. With 60mm+ monthly views in the US and over 400mm across Latin America, VidaPrimo reaches 25% of US based Hispanic Millennials and an average of 20% of Millennials in Latin American countries. The VidaPrimo advertising platform leverages its massive reach of engaged Latin Millennials and connects them with brands through high quality in-stream video opportunities in front of premium content. Additionally, VidaPrimo offers creative product integration, custom video production and fan activation opportunities.
About Music Choice:
Music Choice, the multi-platform video and music network, delivers its music programming to millions of consumers nationwide through their televisions, online and mobile devices. Music Choice programs dozens of uninterrupted music channels; produces originals that feature today's hottest established and emerging artists; offers thousands of music videos; and launched Music Choice Play, the music video, lifestyle and entertainment network for Millennials. For additional information log on to http://www.MusicChoice.com | Twitter: @MusicChoice | Facebook: http://www.facebook.com/MusicChoice