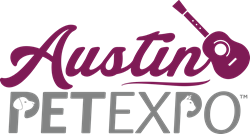 Austin, TX (PRWEB) August 10, 2017
Austin pet lovers, pet parents, pets and their families are gearing up for another exciting, tail-wagging experience as leading national event production company Amazing Pet Expos returns to the Palmer Events Center for the seventh annual Austin Pet Expo. The free-admission event is held indoors and opens to the public on Saturday, August 19th, 10:00 AM – 5:00 PM, and Sunday, August 20th, 11:00AM – 4:00 PM. Petfinder.com and will feature a huge mega-adoption event with a variety of adoptable pets that are looking for a new forever friend and home from local Austin rescue and adoption organizations. In addition, attendees and
The exposition also showcases national sponsor their high-energy pets can check out the State Farm™ Agility Course, as well as enjoy live presentations on the entertainment stage. Other notable features include free nail trims and low-cost microchipping by Paws Humane Society, low-cost vaccinations, pet contests - where pets compete for a chance to win amazing prizes, plus, a reptile area hosted by Austin Reptile Shows, a Bird Area hosted by A Parront's Love Small Bird Rescue and a Kid's Area hosted by Fancy Cheeks Face Painting.
"There is something for everyone and every pet at this year's Austin Pet Expo," says Ethan Barnett, Vice President of Events. "All pets are welcome and invited to attend this fun-filled weekend, where pets and people are always treated as equals and are never discriminated against. In fact, it's really a weekend to celebrate everything pet!"
The Austin Pet Expo invites attendees and their pets to explore more than 150 exhibitor booths featuring various unique pet products, pet clothing and accessories, pet treats and more. In addition, attendees can learn about local rescue organizations and how they can help save, foster, adopt or care for local animals in need. Other presentations will include a Q and A session with local pet professionals and a presentation about pet safety, first aid and care.
"Our goal is to make an impact with pet parents everywhere, improving the lives of pets" says Barnett. We support adoption and rescue, positive reinforcement training methods and a pet/family relationship. We recognize that pets are family and want our show to reflect the special relationship between pets and parents."
The free, indoor, and air-conditioned Austin Pet Expo attracts more than 14,000 attendees along with their furry, feathered, and reptilian pals who are looking to enjoy a new and one-of-a-kind experience where all pets can enjoy a fun day or two out with their pet parent(s). All well-behaved pets are welcome, as long as they're on a fixed lead (or in a carrier) and have proof of age-appropriate rabies vaccines.