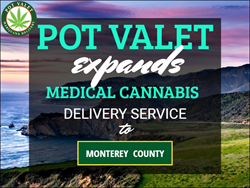 santa monica, california (PRWEB) August 17, 2017
Pot Valet is a leading provider of premium medical-grade cannabis in California. With its medical marijuana delivery service growing to every city in the state, and soon, every state in the country, the company offers patients safe, legal, and discreet access to their medicine, eliminating their need to visit a cannabis dispensary altogether.
According to Pot Valet, all California patients have the legal right to treat themselves with medical marijuana. The company is swiftly expanding its delivery service across the United States, and it welcomes Monterey County to its network. Any resident with a Medical Marijuana Card can now order their medicine online, and have it delivered to their doorstep.
Pot Valet is a networking portal linking dispensaries to patients. Monterey County is the company's 33rd official location to gain access to its Immediate Delivery Service. Patients will not wait days for medicine anymore, as it will now arrive within the hour through collectives partnered with its network. The company helps collectives find patients, and patients find high-grade medical cannabis.
Residents of Monterey County can now order quality marijuana from the comfort of home through the delivery service. Every product on Pot Valet's website undergoes strict laboratory testing to ensure it meets medical standards. The company only stocks lab-tested cannabis, labeled clearly with each strain's molecular profile.
Pot Valet prioritizes safety. It uses the best drivers exclusively, and sends women to deliver to its female clients. Patients can buy the purest products, from flowers, concentrates, and dog treats, to feminine hygiene products, lubricants, topical creams, ointments, edibles, and even marijuana accessories.
Pot Valet is an online marketing firm based in Santa Monica serving patients across California. Its large selection of products consistently meet regulatory requirements for the highest quality medical marijuana and the company only delivers to valid medical patients.
Patients in Monterey County now get orders in less than 45 minutes. Those in other locations still using the company's Overnight Delivery Service get their medicine the next day. Pot Valet is expanding its Immediate Delivery Service throughout the United States and soon, patients everywhere will enjoy the same benefits.
To order marijuana delivery through Pot Valet, patients must upload a copy of their Medical Marijuana Recommendation and a government I.D. photograph. The company is fully compliant with state laws and regulations.
Pot Valet, LTD
3110 Main Street #304
Santa Monica, California
90405
Office: (800) 357-1314