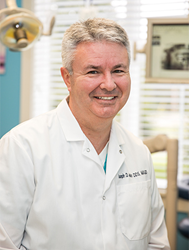 Warren, OH (PRWEB) August 10, 2017
New patients with loose dentures in Warren, OH, can now receive permanent dental implants from Dr. Joseph Bedich. Dr. Bedich is an experienced dentist who offers long-term, aesthetically appealing implants to patients with missing teeth in the Cortland, Warren and Youngstown, OH area.
Tooth loss is not an uncommon problem for adults, and it frequently occurs as a result of advanced gum disease, injuries or tooth decay. Adults with multiple missing teeth have a variety of treatment options available to them, including natural-looking dental implants. When placed by an experienced clinician, implants offer long-term reliability and can fully restore dental functionality. Dr. Bedich is a Diplomate of the American Board of Oral Implantology/Implant Dentistry and has earned Fellowship status in the Academy of Implant Dentistry. He has accumulated over 2,500 hours of continuing education in a variety of treatments, including dental implant placement.
When patients have multiple missing teeth or a full arch of tooth loss, Dr. Bedich may recommend the All-on-4® dental implant solution. This technique can restore the oral function of an entire arch of teeth and last for years without adjustments. Unlike traditional dentures that require uncomfortable and unreliable adhesives, the All-on-4 technique uses four or more strategically placed implants to offer lasting stability.
When placing a dental implant, Dr. Bedich and his team offer a variety of sedation solutions that can be customized to each patient's unique needs to ensure they are comfortable throughout the procedure. Once each implant post is fully integrated into the jaw, a custom crown or full arch prosthetic is attached to the top. The crown is designed to look as realistic as possible and is color matched to the patient's real teeth.
Dr. Bedich welcomes patients with missing teeth or ill-fitting or loose dentures in Warren, OH and the surrounding areas to call his practice in Cortland and schedule a tooth replacement consultation. While not all patients are good candidates for dental implants, Dr. Bedich encourages those who are to seriously consider receiving the dependable, permanent tooth replacement procedure. Call 330-615-1598 or visit http://www.adazzlingsmile.com to schedule an appointment.
About the Dentist
Dr. Joseph D. Bedich is a general dentist in Cortland, OH offering personalized dental care to patients. Dr. Bedich understands the importance of learning the most cutting-edge techniques, which is why he has taken over 2,500 hours of continuing education in a wide variety of services including sedation, implant dentistry, sleep apnea, cosmetic dentistry and head and neck pain management. To learn more about Dr. Bedich or the services he offers, visit his website at http://www.adazzlingsmile.com or call his office at 330-615-1598 to schedule an appointment.