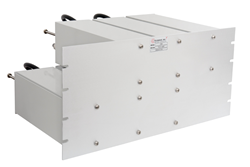 San Jose, California (PRWEB) August 14, 2017
Multi-band receiver systems are prone to desensitization from interfering out-of-band signals. Receiver preselectors play a vital role in these systems as they protect the receivers from desensitization. The compact preselectors are positioned between the antenna and receiver multicoupler to prevent unwanted and out-of-frequency signals from reaching the receiver. Several models, including multiband models, are available to fit virtually any VHF and UHF application.
Telewave's compact preselectors are bandpass filters comprised of low insertion loss and high attenuation cavity filters, capable of withstanding hundreds of watts of input power over a wide temperature range. Varying models that contain 2, 3, 4, 6, or 8 cavities are available. Models with more cavities provide sharper skirts, greater out-of-band attenuation, and a wider passband performance. The TPCP-1542 is an example of a two cavity preselector that has a 700 KHz (max) bandpass or 45dB of attenuation at 5 MHz. When choosing a preselector, it is important to note that as bandpass gets narrower, the "Q" increases.
Compact preselectors from Telewave are guaranteed to be made from heavy duty materials throughout its construction to ensure reliability, strong performance, and operational longevity. For enhanced durability, Mil-Spec RG-214 interconnect cabling is used. Operating with high standards during the manufacturing process allows each Telewave preselector to perform with consistent frequency behavior in most environments. The high power handling capabilities and wide operating temperature range also enables these devices to be used as postselector filters at the output of transmitters or transmitter combiners.
Telewave compact receiver preselectors are equipped with standard 50 Ohm N-type female coaxial connectors. Optional UHF connectors are available upon request. Since compact 4" cavity filters are used in every model, the preselectors remain small enough to fit into a typical 19" rack mount. Some models can even be fitted for installation in standard cabinets as well. All units are factory tuned to customer-supplied frequencies and require no further adjustment. However, field retuning for precise insertion loss adjustment can be easily performed on-site.
For more information about Telewave's line of Compact Receiver Preselectors, please visit https://www.telewave.com/products/receiver-preselectors/.
Editors: Please direct readers to Telewave, Inc., 660 Giguere Court, San Jose, CA 95133,
1-800-331-3396, email: sales(at)telewave(dot)com http://www.telewave.com
About Telewave, Inc.
Telewave designs and manufactures high quality RF system products. It serves
wireless system operators, public safety providers, local and state governments, and
federal agencies in the United States and internationally. The company was founded in
1972 and is based in San Jose, California. Telewave strives to be the premier supplier
of seamless interoperable communication systems that provide security and reliability in
mission critical eco-systems for both commercial and military applications worldwide.
Telewave products are used by more than 7,500 equipment and network manufacturers
and government agencies throughout the world.