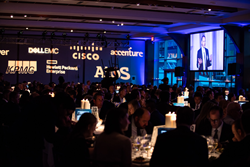 Brooklyn, NY (PRWEB) August 11, 2017
NPower, a national nonprofit that provides free technology workforce development programs, today announced that sponsorship and registration are open for the 2017 Annual Gala and Networking Event.
The event is an annual gathering of technology leaders to address the domestic technology skills gaps in the country and to support NPower's pipeline of funding and opportunities for the young adult and veteran communities the organization serves.
This year, Chuck Robbins, CEO of Cisco, will be the honoree and keynote speaker. In addition, Robert F. Smith, Founder, Chairman and CEO of Vista Equity Partners will receive a special tribute in recognition of his support of NPower over the last few years.
The organization has been identifying areas around the country where technology hubs with employment gaps exist near vulnerable communities of young adults or veterans and aims to connect the industry to these populations by providing training, professional development and, when possible, permanent job placement.
The annual event honors the leaders in the corporate community who have channeled resources into the various IT programs NPower offers, including Tech Fundamentals, Coding, Cybersecurity and Enterprise Service Management, as well as those who have helped inform curriculum, acted as mentors and hired NPower interns and graduates. It is also an opportunity for IT and business leaders to meet and discuss future initiatives in support of the cause.
The 2016 Annual Gala was sponsored by Atos, Accenture, Dell EMC, Hewlett Packard Enterprise and Oracle on the diamond level, Cisco, KPMG, Sapient on the platinum level and Arista, Bank of America, CS Technology, Ernst & Young, Hitachi, HCL, Merck, NetApp, Symantec, World Wide Technology, Zscaler on the gold level. To date, for the 2017 Gala NPower has received sponsorship from Cisco, Dell EMC and Sapient on the platinum level and Bank of America, Merck, NetApp, Strongbow Group, Symantec and Worldwide Technology on the gold level.
Chuck Robbins, CEO of Cisco, joins a prestigious list of honorees from previous years, including Meg Whitman, President and CEO of Hewlett Packard Enterprise, Michael Dell, Founder, Chairman and CEO of Dell, Guy Chiarello, President of First Data Corporation, Mike Gregoire, CEO of CA Technologies and Tom Georgens, former CEO and President, NetApp, Bill McDermott, CEO of SAP, Mark Benioff, Chairman and CEO of Salesforce, Joe Tucci, former CEO of EMC and John Chambers, former CEO of Cisco Systems.
The Gala Committee is comprised of both members of NPower's Board of Directors as well as leaders from the information technology industry. Members include: Vittorio Cretella (Mars, Inc.), Tony Delisio (Hewlett Packard Enterprise), Richard Greenbaum (Citi), Mike Gregoire (CA Technologies), Phil Guido (IBM), Matt Horner (World Wide Technology), Debra King (Pfizer), Ramana Murthy Magapu (Tata Consultancy Services), Dan Petrozzo (Double Partners LLC), David Reilly (Bank of America) and Diane Schwarz (Textron).
Tickets and sponsorship information is available via http://www.npower.org/Gala/2017-Gala.aspx
NPower Annual Gala 2017
Wednesday, October 11, 2017
Pier Sixty, New York City
Reception: 5:30pm
Dinner & Program 7:00pm
About NPower
NPower is a national nonprofit, founded in 2002, that creates pathways to economic prosperity by launching IT careers for military veterans and young adults from underserved communities. They empower under-represented talent to pursue tech futures by teaching the technical and professional skills demanded by the marketplace, and engaging corporations, volunteers and nonprofits in the long-term success of their students. NPower programs are free to qualified students. For more information, visit http://www.npower.org and follow us on Facebook, Twitter, LinkedIn and Instagram.