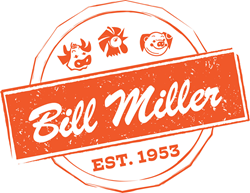 "As we celebrate this transition, our brand has always been part of the community and to support that long standing commitment, we are giving back,"
San Antonio, Texas (PRWEB) August 11, 2017
A staple in the community for more than 60 years, Bill Miller is launching a rebranding campaign this month that will incorporate important key elements including a new digital marketing strategy and updated logo.
As part of the initiative and to thank the community that has supported them, Bill Miller has partnered with the South Texas Blood & Tissue Center for the month of August.
"As we celebrate this transition, our brand has always been part of the community and to support that long standing commitment, we are giving back," said Jim Guy Egbert, president of Bill Miller. "We are helping South Texas Blood & Tissue Center by offering free meals to all blood donors in August."
The gesture from Bill Miller is important as summer traditionally is the slowest time of year for blood collections, with no school drives and many regular donors on vacation.
In addition to a free meal from Bill Miller, all donors who schedule donations at SouthTexasBlood.org/BillMiller or call 210-731-5590 will be entered to win one of five Bill Miller prize packs. Prize packs include a Bill Miller $250 gift card, Bill Miller mug, t-shirt, hat and Laguna Madre Seafood swag.
What started out as a small poultry and egg business in 1950, Bill Miller became a family restaurant that's served the community of San Antonio, Austin, Corpus Christi and the surrounding area.
STBTC a subsidiary of San Antonio nonprofit BioBridge Global, operates seven donor rooms in San Antonio, New Braunfels and Victoria and holds thousands of mobile drives each year.
With support from organizations including Whataburger and Bill Miller, San Antonio has avoided critical shortages in June and July as thousands turned out to donate during Blood Donor Week in June and for Whatamonth in July. Efforts continue to ensure that blood is available for accident victims, cancer patients, mothers of newborns, transplant patients and the many others who need it during the remaining summer.
Donors must present identification. Anyone who is 16 years old and weighs at least 120 pounds (with parental consent form), or 17 years old and above and weighs at least 110 pounds and is in good general health may donate blood. All donors receive refreshments, a wellness check and are encouraged to eat well before and after donation. Learn more about blood donation at http://www.SouthTexasBlood.org.
About the South Texas Blood & Tissue Center: The South Texas Blood & Tissue Center (STBTC) is a nonprofit community blood center that provides blood, plasma, platelets and other blood components to more than 70 hospitals in 40 South Texas counties. It is the largest blood supplier in our region. STBTC has a proud 42-year history serving the South Texas community. The center is a subsidiary of BioBridge Global, a nonprofit organization comprising services for regenerative medicine and research including blood banking and resource management; cellular therapy; umbilical cord blood collection and storage; donated human tissue recovery and distribution for transplant; and testing of blood and plasma products to help patients in South Texas, the United States and worldwide. STBTC has seven donor rooms in South Texas and conducts thousands of mobile blood drives each year. Visit us at SouthTexasBlood.org and BioBridgeGlobal.org.