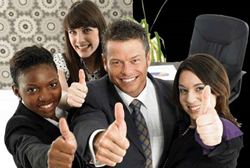 "This is a tremendously exciting time for Jancyn with the acquisition of Customer Perspectives creating one more step of growth for us."
San Jose CA (PRWEB) August 14, 2017
San Jose based Jancyn Evaluation Shops, founded in 1980, is pleased to announce their acquisition of New Hampshire based Customer Perspectives, a 30-year leader in the mystery shopping marketplace. Effective August 1, 2017, this union brings together two innovators within their industry. Both companies are all-service mystery shop providers with top rated programs. Their clients come from customer-facing industries that use mystery shopping to improve their training, monitoring of brand values, and continuous improvement of the customer experience.
According to Vicki Dempsey, Vice President of Sales & Marketing for Jancyn, "This is a tremendously exciting time for Jancyn with the acquisition of Customer Perspectives creating one more step of growth for us. It provides the opportunity to expand our reach by working with more companies, more shoppers, and providing more service offerings."
The merging of these two industry powerhouses means a win for both shoppers and clients. For shoppers, they will have an increased bounty of assignments from a wider variety of businesses. For clients, it means an enhanced shopper pool to provide even more diverse feedback regarding their business, which they can use to further refine their customer service practices.
Judi Hess, founder of Customer Perspectives, will remain active in the business as a consultant with Jancyn. Ms. Dempsey has touted that the 30+ years of insight and expertise that Judi brings will not only make for a smooth transition, but will enhance Jancyn's already stellar reputation within the field of mystery shop services. The Customer Perspectives staff will remain in place for a seamless integration of their departments to optimize the continuity of service to both shoppers and clients.
Shared customer experience philosophy, management styles, and even software metrics were a natural match up for the two companies. Combined they offer even more extensive experience improving customer service feedback in many industries including retail, restaurant, healthcare, property management, and banking/financial services.
Jancyn and Customer Perspectives are members of the Mystery Shopping Providers Association (MSPA-NA), with Judi Hess having served on the board of directors as well having been association president. The MSPA is the largest professional trade association dedicated to improving service quality using anonymous resources. The MSPA designation assures both shoppers as well as clients that mystery shop providers adhere to the highest level of industry standards and is a well-respected entity within their field.
To contact either Jancyn or Customer Perspectives click on the links here.