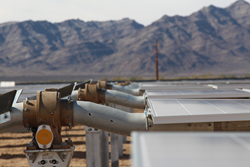 "The test protocol developed by NEXTracker was by far the most rigorous, comprehensive, and demanding set of testing we have seen..."
Phoenix, Arizona (PRWEB) August 14, 2017
Kinematics announced today that Kinematics Manufacturing Incorporated (KMI) has become the first slew gear supplier to complete rigorous design verification testing in accordance with NEXTracker's™ stringent component lifetime reliability requirements. This achievement demonstrates that KMI is providing the most bankable and lowest risk actuation components in the industry.
"NEXTracker is the global leader in solar tracking and works closely with its suppliers to maximize quality while continually innovating," said Mark Henderson, CEO of Kinematics. "The test protocol developed by NEXTracker was by far the most rigorous, comprehensive, and demanding set of testing we have seen to evaluate every conceivable aspect of quality and long-term durability for tracker gears. We were very pleased that our current and prior generation of drive passed this test protocol, and customers should have comfort that these gears will be providing very long services lives for this important solar tracking application."
Testing was performed at KMI's Validation Lab (KVL), the world's largest and most comprehensive slew drive test facility, with audit and review by senior NEXTracker engineers. KMI developed, and invested in, specialized facilities and equipment for the tests required by NEXTracker. The NEXTracker test protocol focuses on durability, ultimate and dynamic (wind load) strength and environmental survivability.
"NEXTracker remains committed to producing the best performing trackers in the industry," said Alex Au, Chief Technology Officer of NEXTracker. "By partnering with world class component manufacturers like KMI, we continue to uphold our legacy of delivering innovative trackers with high performance and availability."
KMI also announced it has delivered hundreds of thousands of gear drives to NEXTracker's projects worldwide since supplying drives to NEXTracker for their earliest prototypes.
About Kinematics
Kinematics is the leading innovator and volume manufacturer of integrated worm- and slew-gear drives globally. KMI sells to markets including tracking (PV and satellite), lifting devices (cranes, man-lifts, positioners) and specialized vehicle steering and actuation. Headquartered in Phoenix, Arizona, the Company sells directly to OEMs in North and South America, Europe, Australia and throughout Asia. For more information, visit: kinematicsmfg.com
About NEXTracker
NEXTracker, a Flex company, advances the power plant of the future with solar tracker and energy storage innovations to increase performance and reduce costs for power plants of all sizes. As the #1 tracker supplier worldwide with over 9 GW delivered, NEXTracker is globally recognized for delivering the most advanced photovoltaic solutions for hundreds of projects across five continents. Headquartered in the San Francisco Bay Area, the Company has offices in China, India, Spain, Mexico, South America, and Australia. For more information, visit: NEXTracker.com and follow the Company on Twitter @NEXTracker.
Media contact:
mhenderson(at)kinematicsmfg(dot)com