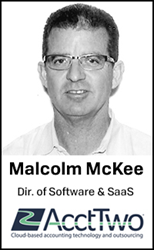 McKee comes to AcctTwo with more than 25 years of executive management leadership and board level experience in companies ranging from startups to $6.5BN in revenue.
Houston, TX (PRWEB) August 15, 2017
AcctTwo, a leading consulting firm and provider of cloud-based ERP, FP&A, and Managed Accounting Services solutions, announced that the firm has hired Malcolm McKee as its Director of Software and SaaS. McKee's role will be both a strategic and tactical one, helping manage the delivery of consulting services to AcctTwo's software clients, as well as guiding the firm's overall strategy in providing software and SaaS companies with the most effective suite of business software, consulting, managed services, and analytics tools available.
McKee comes to AcctTwo with more than 25 years of executive management leadership and board level experience in companies ranging from startups to $6.5BN in revenue. He has played crucial roles in the success of IPOs, mergers, acquisitions, and sales, and has been instrumental in the successful completion of more than 100 ERP, CRM, Sarbanes-Oxley, ERM, IRM, and other IT projects.
McKee was the President of Foreshock, a SaaS CRM application built in the late 1990s and early 2000s. After Foreshock was acquired, he became the CEO of Trango Advisory, which provided professional consulting to a wide variety of businesses in areas such as SOX compliance, Risk Management, CRM, and Financial/ERP systems. During that time, he also did work with KPMG. Most recently, McKee was working with one of AcctTwo's consulting customers, DealerSocket, focused primarily on systems, billing, and collections. In that role, he worked with the AcctTwo consulting team, primarily around Salesforce and Intacct.
"Malcolm comes to us with a wealth of knowledge and we're excited to have him take our SaaS vertical to the next level," said Brett Michalson, Chief Technology Officer at AcctTwo.
The Software and SaaS industry has long been a focus for both AcctTwo's ERP and accounting technology, as well as the firm's Managed Accounting Services. The firm's recent move to become a full-fledged Adaptive Insights sales and implementation partner provides new opportunities to serve the SaaS industry and provide midmarket software companies with process automation, insight, and analytics that were previously only available to the very largest enterprises.
"I'm thrilled to have Malcolm on board," said Marcus Wagner, Founder and CEO of AcctTwo. "His experience and leadership are in perfect alignment with AcctTwo's continued commitment to the SaaS vertical. As the subscription economy continues to grow, we need leaders like Malcolm to guide our customers through the challenges that this powerful business model can present. Whether a company is a start-up or a household name that's shifting to a subscription model, AcctTwo will continue to provide them the very best services and technology."
In his personal life, McKee is a pilot and enjoys snow and water skiing, mountain biking, and motocross. He is based in Austin, TX.
About AcctTwo:
AcctTwo is a leading consulting firm and reseller of cloud-based accounting, ERP, Financial Planning & Analysis (FP&A), and Corporate Performance Management (CPM) software. Our sophisticated systems solve the issues growing middle market companies and nonprofit organizations face today. AcctTwo also provides Managed Accounting Services (MAS), allowing clients to focus on the core competencies of their business. We provide the people, processes, technology, and office facilities to perform these functions, while allowing clients to collaborate interactively through an on-line portal.
AcctTwo is headquartered in Houston, Texas. For more information, please visit http://www.acctwo.com or call 713-744-8400.
Contacts:
Peter Wagner
Director of Marketing
AcctTwo
Cell: 512.415.6846
Email: pwagner(at)accttwo.com