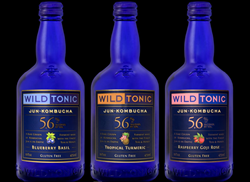 Cottonwood, AZ (PRWEB) August 11, 2017
Catch a wave, grab some rays, and your own "little vortex in a bottle," at the fifth annual Surf 'n' Suds Beer Festival. Presented by Trek Bikes of Ventura, this "Beer Festival with a Surf Twist" will be held on Saturday, August 12 at Carpenteria State Beach, Carpinteria, California. From 12:30 - 4:30 pm (last pour), Artisanal Jun Kombucha brewer Wild Tonic™, will be serving the Central Coast their first taste of its 5.6% alcohol Jun Kombucha in 3 mouthwatering flavors: Blueberry Basil, Raspberry Goji Rose, and Tropical Turmeric.
A rare cousin of kombucha, Jun is steeped in mystery and celebrated for its effervescence and light flavor. Meticulously brewed and impeccably crafted by hand, Wild Tonic™ Jun Kombucha 5.6% is a naturally fermented drink made with: organic raw jun culture, exotic teas, honey, filtered water, organic fruit juices, botanicals, herbs, and spices and fermented to the point of 5.6% alcohol by volume. Unlike traditional kombuchas fermented with sugar, Wild Tonic™ derives its smooth, subtle, and sophisticated drinking experience by fermenting with honey.  
Wild Tonic™ Founder and Master Brewer Holly Lyman exclaims "We are beyond excited about the California release of Wild Tonic's 5.6% Jun Kombucha. Our California fans are so passionate about our Jun Kombucha. Currently available only in Arizona and Nevada, this has been long in the making."
"Situated just 12 miles south of Santa Barbara," says Steven L. Siegel, Wild Tonic™ CEO, "Surf 'n' Suds provides the perfect venue for Wild Tonic's California debut and a fitting prelude for the whole new class of kombucha, slated for release this fall. Prepare your tastebuds."
Beer connoisseurs will want to purchase VIP tickets, which grant holders early entry, exclusive tastings, and a complimentary tote bag from Beer Breath Co. At the 11:30 am VIP opening, Wild Tonic™ will be featuring its newest limited release, Mango Ginger 5.6%. Want to try this mouthwatering mango warming to a ginger infusion? "Seize the day." Less than 14 VIP tickets remain.
Anyone and everyone who wants to feel great will appreciate the impressive profile of prebiotics, probiotics, amino acids, and enzymes in these energizing elixirs. Grab your "little vortex in a bottle" and ride the Wild Tonic™ wave. Wild Tonic™ Jun Kombucha. Kombucha Redefined.
About Good Omen Bottling, LLC
At Wild Tonic®, our uncompromising commitment to quality and unbridled passion for innovation and bee conservation informs all that we brew! Whether fermenting our unique variety of Jun Kombucha with honey rather than cane-sugar, or pioneering brewing processes that maximize the integrity of probiotics, within each cobalt blue glass bottle lies the most exquisitely crafted energy elixir you've ever experienced! We thank you for making this one-of-a-kind Jun Kombucha part of your healthy lifestyle!
To learn more about the Wild Tonic® brand, visit http://www.wildtonic.com.