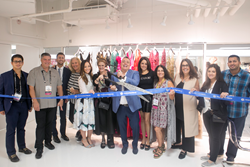 ...Visitors to the showroom have agreed that the new location is, in the words of one guest, "nothing, but spectacular."
Atlanta, Georgia (PRWEB) August 10, 2017
Jovani Fashions is now showcasing its most recent prom collection in the designer dress maker's brand new showroom, located in the AmericasMart in Downtown Atlanta. The new showroom's address is 75 John Portman Blvd Showroom 4N100, Atlanta, Georgia 30303. It is located on the 14th floor of the trade center. Jovani notes that visitors to the showroom have agreed that the new location is, in the words of one guest, "nothing, but spectacular."
The Jovani showroom is open for several markets throughout the year, always during a market's hours. In particular, the Jovani showroom will be open for this year's Vow Bridal Markets in April, February, and August. This year the September Vow market will be on the 12-14th, the February market will be February 6-10th (2018), the April market is set for April 10-14th (2018), and World of Prom Market will be August 7-11th (2018). Jovani says that it will be bringing a new and different collection to each market, so there will always be something showgoers won't want to miss.
Jovani points out that its new location is more spacious, with a completely new design. The elevated showroom comes with two large runways, a main showroom with a review room, a smaller showroom with a review room, a separate room for pageants and a cafeteria for all of its guests. Encompassing a grand total of 8,475 square feet, Jovani says there is plenty of space to show off its newest collection each season.
Jovani says that, while each market will vary in many respects, there will always be plenty of staff members, models, and guests at each market event. Jovani adds that it believes it always has the most stunning models and the number of them will vary from six models at smaller markets to 80 during the busiest market week.
The noted fashion firm adds that, no matter which market it is involved in, Jovani always showcases the strongest pieces from their newest collection. They are never limited in their designs and always have a dress appropriate and desirable for everyone woman, says Jovani. It adds that the company prides itself on being a design leader in the prom world, while also boasting incredibly successful homecoming, pageant and evening wear lines.The firm adds that it works hard to ensure that there is never a dull moment in any Jovani collection, because they are all rich in textured fabrics, bright colors, new silhouettes and innovative designs. Jovani concludes by noting that they want all attendees to make sure to stop by the Jovani showroom during market weeks to check out all of their new pieces.
Readers who would like to learn more are invited to visit the Jovani Fashions web site.