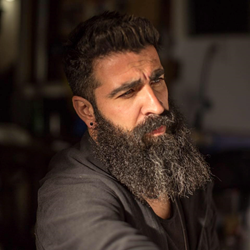 I USE MY ART TO TRY AND MAKE A DIFFERENCE.
Los Angeles, CA (PRWEB) August 11, 2017
Tomer Peretz is a Los Angeles based Contemporary Artist well known for his curved canvas works, oil paintings and murals.
Like Yourself, brings a positive feel to the area by highlighting the effect social media usage has on personal image especially among women. The mural features well known Israeli artist and model Dar Zuzovsky, who has been featured in numerous advertising campaigns for Sephora, Samsung, Urban Outfitters and also appeared on the covers of Cosmopolitan and Blazer. Regarding this mural Tomer stated, " I wanted to involve social media and communicate the very thin line between positive and negative social media usage. I think people should like themselves no less than they like others, especially women."
The painting of Like Yourself, will be live streamed on both Instagram and Facebook beginning Saturday at 12pm. The mural is scheduled to be finished late Sunday August 13, 2017.
About Tomer Peretz
Tomer Peretz is a Los Angeles based Contemporary Artist, Painter, Photographer and Designer. Peretz was born in South East Jerusalem, Israel and served in Israel Defense Forces before moving to the United States to launch his worldwide artistic career. Tomer is best known for his CURVED canvas work, oil paintings and murals. In 2014, Tomer Peretz won the Arthur Szyk Prize of Disruptive Thought inaugural prize for his effort to promote "positive expressions of Jewish self-determination". Recently, Tomer has worked on murals located in prime downtown Los Angeles locations, that have gone viral. The majority of Tomer's work is for private buyers, Collectors, and celebrities. His work has been shown in Galleries across Los Angeles, Las Vegas and Israel. He is represented by Guy Shiffer, an Art agent from Milano-Italy.
Media Contact
Credits:
Photography: Avichee
Graphic Design: Orange Tulip
Assistant: Axel Diaz
Model: Dar Zuzovsky
Wall / Building Owner: Eric Shomof