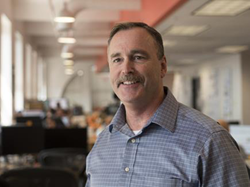 At Kaleidoscope, our motivation for innovating powerful solutions is twofold, yet inextricably intertwined: grow businesses and improve lives.
Cincinnati, OH (PRWEB) August 14, 2017
Kaleidoscope, an innovation and product design firm with global headquarters in Cincinnati hired Robert Gill as the Vice President of Engineering.
Gill brings with him 30 years of experience in both engineering and marketing, positioning Kaleidoscope to better serve its business partners from both a technical and market perspective.
Kaleidoscope benefits from Gill's broad base of experience, which includes medical devices, consumer electronics and military applications.
"At Kaleidoscope, our motivation for innovating powerful solutions is twofold, yet inextricably intertwined: grow businesses and improve lives," said Matt Kornau, CEO. "Robert possesses expertise in both of these areas through his many new product development accomplishments, which is why we are thrilled to bring him on board as a valuable asset to our team."
Some of Gill's medical device products and projects include ultrasonic cutting and coagulation technology, finger instrumentation, a treatment planning and device tracking system, ureter identification, radical prostatectomy, single site laparoscopy/NOTES, anastomotic staples, esophageal dilation, a magnetic surgical camera and an endoscope with 330-degree field of view visualization.
Additionally, Gill's previous work as a client gives him a unique perspective on how to solve Kaleidoscope's current and future business partners' new product development challenges.
"I think about our corporate objective of igniting clients' business growth through Purpose Driven Innovation," said Gill. "The team and culture within Kaleidoscope embodies a passion to satisfy our clients and end users beyond their expectations. As a previous client of Kaleidoscope I felt that obsession from the beginning and throughout the project."
Prior to joining Kaleidoscope, Gill worked for Cincinnati Sub-Zero, EndoChoice Inc., Ethicon Endo-Surgery (a division of Johnson & Johnson), Rosen Medical Inc. and Chiron Vision. Evidence of his experience is demonstrated by the range of roles he has played in his career, including Director of Engineering, Senior Director of Program Management and Systems Engineering, Group Product Director and Principal Engineer.
Most recently, Gill has focused primarily on medical devices, which is also Kaleidoscope's largest and fastest-growing segment.
"There is incredible value in our work to improve patient outcomes," said Gill. "I have a passion and a desire to develop solutions that focus on improving the patient's life. There aren't too many jobs where you can have such a direct impact on people as you can through the development of clinically significant medical devices."
To date Gill has secured 30 U.S. patents. He has also earned public recognition for his accomplishments, including awards such as the EndoChoice Founder's Award for Individual Contribution to Company Growth and the Johnson & Johnson Standards of Leadership Award for Market Research Methodology.
Gill earned an MBA from Xavier University and a Bachelor of Science in Mechanical Engineering from the University of Tennessee.
About Kaleidoscope
Headquartered in Cincinnati, Kaleidoscope is an early innovation, product design and development firm with roughly 100 employees. With our partners, we create a better human experience - one customer, one product, one insight at a time.