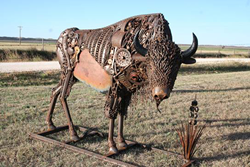 The WDC's runway fashion show, while still embracing the fantasies of fringe and fur, departs from the cowboy couture of the past.
Jackson Hole, Wyoming (PRWEB) August 12, 2017
Furniture inspired by the works of Wassily Kandinsky and Piet Mondrian may not be the first thing that comes to mind when you hear "Western design," but MosArt, which creates just such pieces, is among many exhibitors from across the country at this year's Western Design Conference Exhibit + Sale (WDC) in Jackson Hole who prove that Western style is more than just leather and hair-on-hide.
Celebrating its 25th anniversary Sept. 7-10, 2017, at the Snow King Event Center in Jackson, Wyoming, the WDC was founded on the idea of cultivating the best of contemporary craft, a mission that has only grown in recent years as artisanal businesses boom, embracing both innovative ideas and heritage techniques.
At Maryland-based MosArt, for example, owner Bruce Schuettinger combines his background in studio furniture and abstract painting to create custom-made tables, chairs and sideboards with a palette of sustainably sourced wood varieties. He arranges differing shades and grains of wood in abstract mosaic-like patterns – a process he calls "painting with wood" – resulting in one-of-a-kind pieces of functional art.
Schuettinger isn't the only one with a unique take on the style of the Wild West. At the WDC Exhibit + Sale, he's joined by over 150 juried artists and exhibitors specializing in home décor, jewelry, fashion, woodworking and mixed metal. This year's talented lineup includes award-winning artist Supaya Gray Wolfe, whose intricate saddles function as statement pieces in the home; John Gallis, who mixes contemporary and rustic styles for his furniture company Norseman Designs West; Nebraska's Garry Underwood of Dry Creek Design, who captures history through life-size sculptures crafted out of metal artifacts; and Doug King, a Missoula-based furniture maker known for his mid-century modern forms.
Kicking off the four-day event, the WDC's runway fashion show, while still embracing the fantasies of fringe and fur, departs from the cowboy couture of the past. The up-close-and-personal live event showcases looks crafted by established and up-and-coming designers from around the country, including chic knits by Chicago-based Ann Everett, high-fashion gowns inspired by the mountain landscape by Celeste Sotola of Montana Dreamwear, and sleek sterling silver belt buckles by Ellie Thompson. The Opening Preview Party, Fashion Show and Live Auction are from 6-10 p.m. on Thursday, Sept. 7, at the Snow King Center.
Whether you're a traditional guns-blazing cowboy or a sophisticated trendsetter, the WDC offers a range of styles that highlight the past and present of the West.
About the Western Design Conference Exhibit + Sale:
The 25th annual Western Design Conference Exhibit + Sale is a four-day, multimillion-dollar event that brings together craftspeople, collectors, interior designers, architects and fashion designers with a love of the West. The Western Design Conference was founded 25 years ago in Cody, Wyo., as a way to promote contemporary artists working in historical American craft methods. The WDC Exhibit + Sale moved to Jackson in 2007; owner Allison Merritt continues the strong commitment to Western arts in Wyoming while expanding the reach of the show. Additional information on the WDC Exhibit + Sale, including schedules and tickets, is available at http://www.westerndesignconference.com and on Facebook and Twitter @WesternDesign.
Contact: Amy Stark, Word PR + Marketing, amy(at)wordprmarketing(dot)com, 307.734.5335