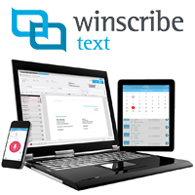 ...With the new features, user controls and a modular design, Winscribe Text customers can fine-tune their documentation workflow to achieve better clinical outcomes.
Auckland, NZ (PRWEB) August 14, 2017
Winscribe announced today the latest version of its medical documentation management solution, Winscribe Text v8.3. The system provides a central platform for managing clinical documentation, and it enables managers to easily monitor and manage staff productivity levels, report distribution, quality assurance and data compliance. In addition, the Winscribe Text software solution has a user-friendly interface that can be interfaced or integrated with EHRs and other Health Information Systems (HIS), enabling fast and accurate reporting while reducing data entry duplication and errors.
New tools available in Winscribe Text v8.3 that are aimed at improving document typing turnaround time include:

New Hotkeys: Several new hotkeys have been added to Winscribe Text v8.3, enabling typists to navigate and correct documents faster – making them more efficient. In addition, new hotkeys for "Find Next" and "Find Previous" have been added, enabling users to navigate more easily through documents when making searches.
Select Word on Pause: This feature automatically selects and highlights the last word of speech recognized text when audio playback is paused, allowing a quicker reposition on lengthy documents.
Autocorrect Options: New options are available in Winscribe Text v8.3 that enables users to update their personal autocorrect words.
Hotkey Navigation for Regular Expressions: The facility to configure hotkeys for navigating between predefined matches has been added, reducing manual selection for users.
Additional Winscribe Text v8.3 enhancements include:
Appointment Filtering: New appointment filtering capabilities have been added, which give clinicians further easy access to the appointments they need to work on.
Speech Recognition Upgrade: The system is now integrated with an updated version of Winscribe Speech Recognition and enables the use of Speech Recognition in Winscribe Text's Desktop client over Citrix.
Winscribe Text Web Portal Enhancement: The Winscribe Text Web Portal now supports enhanced document formatting and spell-checking options.
The latest updates and features available in Winscribe Text v8.3 build onto the system's robust base system and optional modules that assist healthcare organizations to increase physician and staff productivity, improve system administration, save costs and improve patient data management and care. A list of the current Winscribe Text modules includes:
Appointments: Provides clinicians access to their patient appointments.
Attachments: Enables users to add attachments to documents.
Automated Print Distribution: Enables automatic printing of documents for distribution.
Comments: Enables tracked instructions and questions to be made against documents.
Structured Fields (Custom Alert, Custom Data & Custom Input): A facility whereby administrators can define their own database fields and store bespoke data in the Winscribe Text database against patients and visits.
Notifications: Enables administrators to configure user email alerts that are triggered by preset criteria.
Outsource Manager: Enables documents to be automatically outsourced (to a third-party outsourcing service).
Patient History: Provides users with a quick method of examining all of a patient's Winscribe Text documents in a single concatenated view.
Speech Recognition: Enables users to record dictation and have their speech immediately transcribed.
Team Snippets: Enables users to create, edit and share snippets (standardized blocks of text) that are used frequently.
Typing QA: Allows transcription managers to QA documents before they go back to clinicians for sign-off.
"For healthcare organizations, complete and accurate clinical documentation has always been important. However, in today's shifting healthcare landscape, it has become even more of a strategic imperative, and there is great pressure to deliver documentation in a timely and compliant manner," commented Fausto Basso, Director of Software Development at Winscribe. "Since clinical data and documentation validates patient care, provides information to subsequent clinicians and plays a major role in billing and claims processing, providers need solutions that can help ensure that the process is efficient, reliable, enables thorough and accurate documentation, and meets their organization's requirements. Winscribe Text does just that. With the new features, user controls and a modular design, Winscribe Text customers can fine-tune their documentation workflow to achieve better clinical outcomes."
To learn more about Winscribe Text and Winscribe's full suite of speech productivity and workflow management solutions, please visit http://www.winscribe.com.