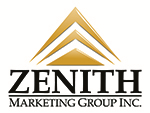 "As a firm, we feel these two individuals add a new level of credibility to our efforts, and working in concert, have the ability to cement Zenith Marketing Group as a national leader and resource for high net worth planning," said Mike Gorlick, President
Freehold, NJ (PRWEB) August 14, 2017
Zenith Marketing Group, Inc., a national leader in the brokerage of life insurance, fixed annuities, long-term care, and disability income insurance, has entered into a strategic consulting agreement with Morris Pinkowitz, CPA, formerly of CohnReznick LLP. Mr. Pinkowitz, with his 35 years of experience in sophisticated Trust and Estate planning and compliance, and corporate, partnership and individual income tax planning and compliance will work closely with Zenith Marketing Group's dedicated team of insurance professionals to offer an increased presence in the high net worth planning space and expand its advanced planning resource platform.
Zenith Marketing Group has also announced that Matthew Lawrence will be shifting roles to become Director of Life Sales. Prior to joining the Company as Vice President of Business Development – National Accounts, Matthew was an associate with Tempewick Wealth Management, where he assisted high net worth individuals and business owners with their Estate Planning and other advanced planning needs. As Director of Life Sales, Matthew is tasked with growth and expansion of Zenith Marketing Group's life insurance brokerage, also working closely with the aforementioned Morris Pinkowitz in advanced life insurance case design for Zenith's large accounts.
"As a firm, we feel these two individuals add a new level of credibility to our efforts, and working in concert, have the ability to cement Zenith Marketing Group as a national leader and resource for high net worth planning," said Mike Gorlick, President and CEO of Zenith Marketing Group, Inc.
About Zenith Marketing Group
Zenith Marketing Group, with its main office in Freehold, New Jersey and satellite offices in Charlotte, North Carolina and Wayne, Pennsylvania, has been a leading, nationally recognized brokerage agency since its founding in 1995. With 65 employees, Zenith Marketing Group is comprised of experienced staff including external and internal wholesalers, specialty underwriters including an on-staff medical doctor, licensing specialists, case managers, and a full service marketing department. Zenith Marketing Group specifically caters to experienced insurance professionals, independent broker/dealers, small-to-medium sized banks, and property/casualty firms that seek to provide a competitive edge in the life insurance, fixed annuity, long-term care, and disability marketplace.