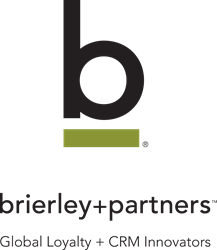 Dallas, TX (PRWEB) August 14, 2017
Brierley+Partners is proud to announce the company's latest distinction and honor. This week, "The Forrester Wave™: Customer Loyalty Solutions, Q3 2017" by Forrester Research, Inc. named Brierley+Partners as a Leader.
Forrester states, "Brierley+Partners focuses on delivering profitable customer relationships. Two years into its acquisition by [NRI], Brierley+Partners is making good on its plans for expansion into new markets – it has added over ten global implementations as well as clients in non-retail verticals like B2B and [CPG]. It also streamlined its go-to-market strategy by repackaging its products into a more modular solution, making incremental improvements to the platform UI (with a total overhaul planned for later in 2017), and tightening up its design methodology."
Only select companies are invited to participate in the highly respected Forrester Wave™ evaluation. From that field, the thirteen most significant Loyalty Program Service Providers were evaluated across 30 criteria designed to assess their current offering, strategy and market presence.
Of particular significance, Brierley earned the highest score for Current Offering and Strategy, and received the highest score possible in the loyalty strategy services, loyalty marketing, account services, road map, revenue growth, customer retention and global execution criteria.
The Forrester Wave evaluation also cites Brierley's "biggest strength lies in its ability to build relationships with its own clients. The references [Forrester] spoke to love its industry experience, flexibility, and dedication to understanding and serving their business needs."
Jim Sturm, Brierley CEO stated, "Wow, I could not be more proud of our company for this significant accomplishment and recognition. Forrester's assessment is highly regarded and their Wave process is extremely thorough. I believe that our position as a leader is reflective of our technology innovation and being trusted advisors to our clients, working collaboratively to ensure their success. This recognition combined with our continued annual double-digit growth and global expansion is fueled by our culture, our passion and our dedication to helping our clients engage and delight their consumers."
For the full report "The Forrester Wave™: Loyalty Program Service Providers, Q3 2017," visit http://www.brierley.com/forrester-report.
About Brierley+Partners
Brierley+Partners are global loyalty and CRM innovators. Brierley brings industry-leading thought leadership, incomparable experience and advanced technologies to help brands build lifetime loyalty with their customers. Brierley runs some of the best loyalty and customer relationship programs for clients across the globe. Brierley offers a complete suite of loyalty services: program design, loyalty/CRM technology, marketing strategy, research, analytics, omnichannel communications, account management, interactive/print production and fulfillment. The industry-leading Brierley LoyaltyonDemand® technology platform is uniquely robust, modular, flexible and quick-to-market. All services and technology focus on a single mission: making clients' customer relationships dramatically more profitable. Brierley is U.S.-based and is a wholly-owned subsidiary of Nomura Research Institute, headquartered in Tokyo, Japan. To learn more about Brierley+Partners, visit http://www.brierley.com