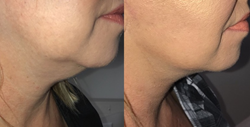 NeckTite has several advantages over older treatments to improve the appearance and skin tone of the neck. One such advantage is that NeckTite is minimally invasive.
Colorado Springs, CO (PRWEB) August 22, 2017
Everyone wants to look as healthy and youthful as possible, but such a goal can often be thwarted by genetics, aging, and poor lifetime habits. It's no secret that as one gets older, skin begins to lose its laxity and begins to sag and droop. This sagging can be exacerbated by genetics as well as factors within a person's control, such as diet, exercise, and whether or not they smoke. Individuals often look to turn back the clock in order to feel good about themselves, but there's also a financial consideration as well. Studies have shown that people with above-average looks will earn $230,000 more during the course of a lifetime than those in the bottom seventh grouping in regards to appearance. (1) One problem area that most people want improved as they get older is their neck. Fortunately, experienced cosmetic medical professionals, such as Dr. John R. Burroughs of Colorado Springs, have the recently FDA-approved NeckTite device to help contour the neck area by removing fat and tightening skin.
Having cosmetic work done to improve one's appearance is becoming increasingly popular with every passing year. The American Society of Plastic Surgeons reports that there has been a full 115% increase in surgical and minimally-invasive cosmetic procedures since 2000. Overall, there were 15.9 million such procedures done in 2016, an increase of 2% from the previous year. (2) The neck lift is one such procedure that has proven popular with patients. There were more than 55,000 individuals in 2013 alone who chose to get their neck skin tightened to look better and younger. (3) The usual treatments for a sagging neck or double chin was either a neck lift or liposuction, but there are some drawbacks to both, such as cost and downtime. The average length of time it takes for someone to return to work after getting a neck lift is between 10 to 14 days. (4) However, there is now another option available. Highly trained oculofacial plastic surgeons, such as Dr. John R. Burroughs of Colorado Springs, are now using NeckTite to help reduce fat and contour the neck.
NeckTite has proven itself to be a tremendous procedure for removing unwanted fat from the neck area. NeckTite uses Radio Frequency Assisted Lipolysis (RFAL) to help patients achieve a better neck appearance. RFAL is a very versatile treatment that can work on many different areas of the body and helps improve skin laxity while also removing fat. Depending upon the body area in question, RFAL procedures are known as BodyTite, FaceTite, or NeckTite. Aesthetic plastic surgeons, such as Dr. John R. Burroughs of Colorado Springs, know that NeckTite is a marked improvement upon older liposuction methods. The main reason for this is that NeckTite melts fats, removes it, and tightens the skin within a single process instead of the multiple ones that older liposuction treatments had to do. This combination of steps makes the entire procedure go faster and cuts down on potential adverse side effects. In a clinical study for RFAL treatments on the neck and lower face, there were no adverse effects reported that required further medical or surgical intervention. (5)
Dr. John R. Burroughs, Medical Director of Springs Aesthetics, says, "NeckTite has several advantages over older treatments to improve the appearance and skin tone of the neck. One such advantage is that NeckTite is minimally invasive as it uses just a needle and the device, which is comprised of an internal cannula and an external electrode. There are no scalpels, stitches, or incision scarring with NeckTite as there would be with a traditional neck lift. NeckTite works by having radio frequency energy travel from the internal cannula to the external electrode, focusing said energy into the adipose tissue. This energy melts away fat and tightens the skin. The neck area becomes more toned after a NeckTite treatment as there can be up to a forty percent increase in soft tissue contraction. Another marked improvement over traditional liposuction procedures is that RFAL is extremely safe due to the fact that there are precise temperature controls which will shut down the production of energy as soon as the selected temperature is reached. This helps ensure the risk of burns is greatly mitigated. Personally, I love the speed of the procedure as fat destruction and removal are combined into a single step, and this reduced treatment time means that the patient will notice a marked reduction in post-procedural swelling when compared to older liposuction methods. The recovery time for a NeckTite procedure is also a good deal less than that of a neck lift. For patients that have much greater amounts of unwanted fat, they can undergo aspirational liposuction simultaneously with the NeckTite procedure.
RFAL treatments like NeckTite have been used around the world, and I'm extremely happy that it's FDA-approved and now available in the United States. It's a tremendous innovative leap forward in shaving years off one's appearance through contouring the neck by removing unwanted fat and tightening the skin." (6)
In the past, individuals who had issues with their necks, such as unsightly waddles of sagging skin, only had a few options available. The main treatment to turn back the clock for sagging necks was a neck lift, but such a surgery required a good deal of downtime and the risk of a number of potential adverse effects. Now cosmetic physicians, such as Dr. John R. Burroughs of Colorado Springs, have the FDA-approved NeckTite procedure that uses radio frequency energy to tighten skin and melt away fat in one simple step. NeckTite has proven itself to be both safe and highly effective, which is why more doctors are using it to treat their patients.
References:
1) http://time.com/3926042/nip-tuck-or-else/
2) https://www.plasticsurgery.org/news/press-releases/new-statistics-reflect-the-changing-face-of-plastic-surgery
3) http://www.cbsnews.com/news/butt-augmentation-neck-lifts-increasting-in-popularity-among-us-patients/
4) http://www.webmd.com/beauty/cosmetic-procedures-neck-lift#2-6
5) https://www.ncbi.nlm.nih.gov/pmc/articles/PMC5010341/