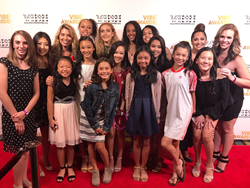 (PRWEB) August 11, 2017
Twenty-six Dance Academy USA routines earned top placements during the July 2017 National Dance Competition in Hollywood. The Cupertino, California based dance school won thirteen first-place awards, three second-place awards, five third-place awards, three fourth-place awards and two fifth-place awards. http://www.danceacademyusa.com/.
Two of Dance Academy USA routines were invited to compete in the Battle of the Stars Finals. Those routines were called, Steppin' Out With My Baby and Floating. In addition to the strong showing of their group routines, Dance Academy USA's individual dancers won thirty convention scholarships and three invitations to travel with The Vibe Company for the 2017-18 season.
A Complete Accounting of Dance Academy USA Routines
Steppin' Out With My Baby won 1st Place Mini Small Group, Most Entertaining, 3rd Overall Mini Division, and an invitation to compete in Battle of the Stars; Party Time won 1st Place Junior Large Group Tap; Just Girlz won 1st Overall Junior Production; Play That Sax won 1st Place Intermediate Production Tap and 4th Overall Intermediate Production; Salvation won 2nd Place Intermediate Large Group Lyrical and 5th Overall Intermediate Large Group; Keep Getting Better won 2nd Place Intermediate Large Group Jazz; River Deep won 3rd Place Intermediate Large Group Jazz; Vogue won 3rd Place Intermediate Small Group Jazz; Charmed Life won 1st Place Intermediate Production Contemporary; Floating won 1st Place Teen Large Group Lyrical, 1st Overall Teen Large Group and was Invited to compete in Battle of the Stars; Islands won 2nd Place Teen Small Group Modern/Contemporary and 3rd Overall Teen Small Group; Black Magic won 1st Place Teen Small Group Jazz and 5th Overall Teen Small Group; Geraldine's Routine won 1st Place Teen Large Group Tap; Cyclone won 1st Place Teen Large Group Jazz; Bang Bang won 1st Place Teen Large Group Musical Theatre; Resolution won 4th Overall Teen Large Group; Feeling Good won 1st Overall Senior Production; Lay Me Down won 3rd Overall Senior Large Group and Caitlyn Kinney's Judges Award; Before You won 4th Overall Senior Large Group; Want U won 1st Place Senior Small Group Open.
About Dance Academy USA's Competition Team
According to their website, Dance Academy USA Production Company (DAUPC), or what is commonly referred to as the Competition Team, is an accelerated training program for those youth dancers who want additional performance opportunities. Dancers are required to take additional performance and technique classes and membership invitations are offered on an audition-only basis. All DAUPC members must re-audition every year as the team is highly competitive, with slots available only for those that want to take their dance to the next level. DAUPC has participated in countless dance competitions over the last twenty-seven years, and in nearly each and every case, they have returned home with many top awards.
About Dance Academy USA
Dance Academy USA is purported to be the largest dance school under one roof in the state of California and a five minute drive from Apple's new spaceship; the business has served the Silicon Valley dance community for 27 years, and according to its website, offers youth classes in tap, ballet, pointe, jazz, contemporary, lyrical, hip hop and breakdancing; the company was founded in 1990 by James R. and Jane R. Carter.
About Jane Carter
Jane Carter is a graduate of San Jose State University with a degree in Human Performance/Fitness and a minor in Nutrition and Food Science; while in college she was selected by Dole Corporation to be the company's ambassador to promote dance, modeling, and aerobics in Japan; she is a former dancer for the Golden State Warriors and a professional cheerleader for the San Francisco 49ers; she is the Former Director of the NBA Warrior Dance Team and former Creator and Director of Arena Football's San Jose SaberKittens; in 2013, Ms. Jane was awarded America's Dance Educator of the Year; in 2014, she won the most prestigious dance teacher award in the United States of America when Dance Teacher Magazine awarded Ms. Jane the 2014 Dance Teacher Award in the Private Studio/Conservatory Category; she was the Managing Director of American Spirit Association which held three to five day dance camps at colleges all over the United States; she was also the Artistic Director of School House Sports which was the largest dance studio outreach program in Northern California at one time and offered dance classes to pre-schools, public schools, and private schools.
To Learn More about Dance Academy USA
Visit their website at DanceAcademyUSA.com. You can also contact the company at 408.257-3211 or by email at officeteam(at)danceacademyusa(dot)com or christine(at)danceacademyusa(dot)com.