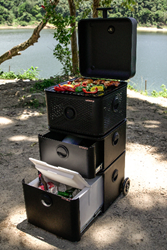 Combining grill modules allows for a practically unlimited, contiguous cooking surface, which makes the STCKBLS Grill perfect for tailgating and outdoor parties.
Houston, Texas (PRWEB) August 14, 2017
The STCKBLS Grill system, a stackable, modular, portable and complete barbeque grill system, and the only one on the market that can be stacked and be used in a neat side-by-side configuration, is now available on Kickstarter.
Developed by STCKBLS Founders Eric Djie and George Mathew, the STCKBLS Grill system was developed with grill-masters in mind.
"I wanted to create the ultimate grilling system. After designing gas and charcoal grills for many years for other companies, I wanted to create a grill system that combined all my past ideas and that would foster the ultimate grilling experience," Djie said. "We made it look and feel cool and sturdy. Some call it the first real 'manly,' portable grill system."
Its associated grill stand also acts as both a table and a cart for the grills and other modules available, which makes STCKBLS both innovative and functional.
"We believe that design should be beautiful and must also serve a purpose, and that's truly the case with the STCKBLS Grill system," Djie said. "Our complementary coolers and grill utility boxes can also be stacked and easily transported to form a complete barbeque grill system."
The STCKBLS Grill is also unlike many other portable grills on the market today because it is built with stronger materials and made to last longer than its retail competitors.
"The grill industry isn't high growth, so many grill manufacturers lower their quality standards to increase profits, which means most portable gas grills are only designed to last one or two seasons and then be discarded," Mathew said. "We believe strongly in sustainability, so we designed the STCKBLS Grill system with higher quality materials to last much longer than normal. We want to grow profits from highly-satisfied customers buying other STCKBLS modules, not from replacing their STCKBLS Grills."
Mathew adds that the company decided to offer the grill through crowdfunding rather than traditional retail outlets to make the revolutionary portable grill more affordable to consumers and enable the company to create higher-quality, longer-lasting products at the same time.
The STCKBLS Grill and related modules will also be offered at a further early-bird discount during the crowdfunding campaign.
Features include:

Portable and modular design, with each module equipped with handles, weighing less than 44 pounds (20 kilograms) and having the same 18 by 18-inch (45 by 45 centimeter) footprint to allow for stacking
Expandability, with modules engineered to be placed neatly side-by-side to form a practically unlimited grilling area
Strength and durability, with all modules encased in high-quality steel
Sufficient heat output, with the grill providing 12,000 BTU per hour
Proper heat distribution, with the grill designed to foster even cooking without flare-ups
"Combining grill modules allows for a practically unlimited, contiguous cooking surface, which makes the STCKBLS Grill perfect for tailgating and outdoor parties," Djie said.
Other STCKBLS modules include a cooler for storing beverages, meats and other items, as well as a utility box with sliding drawers.
For more information or to order The STCKBLS Grill system at an early-bird discount during crowdfunding, visit the STCKBLS BBQ Grill System Campaign Page on Kickstarter.
About STCKBLS
STCKBLS was co-founded by Eric Djie, an industrial designer and former tech startup co-founder/CEO with more than 10 years of design and manufacturing experience in making gas grills, and George Mathew, a former investment banker and tech startup co-founder/CEO. The founders believe that beautiful, highly functional products should not be only reserved for the luxury and niche markets, developing STCKBLS products to be affordable for everyone by focusing on efficient manufacturing, logistics, and marketing – along with innovative design. For more information, visit http://www.stckbls.com.