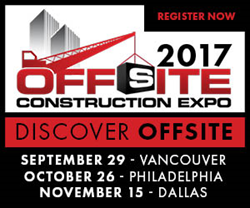 Vancouver, BC, Canada (PRWEB) August 14, 2017
One of the fastest growing trends in construction is the use of offsite methods across North America. From Google to Marriott, these household names have used and plan to use offsite construction to assist in growing their business in upcoming years. The 2017 Offsite Construction Expos are offering focused presentations on what the offsite construction industry offers.
The Offsite Construction Expos will be held in Vancouver, British Columbia on September 29; Philadelphia, Pennsylvania on October 26; and Dallas, Texas on November 15. These major construction hubs make for the ideal locations to promote what offsite construction can produce.
The Vancouver expo agenda features presentations showcasing projects and trends in hospitality, shipping containers, and more. Representatives from world-renowned architecture firm, Perkins+Will, will present "Designed by Perkins+Will: Housing Module Improves Prefabrication and Livability." The presentation will focus on the latest cross-laminated timber (CLT) module built by ATCO Structures.
The expo will also educate attendees with presentations from Craig Mitchell with Britco Construction titled "That's Modular? Innovative Trends in Modular Building." Jim Dunn and Matt Hallaran with Stack Modular Group will present on "Hotel Resort – A Structural Steel Modular Design, Built for the Pacific Coast." Rhys Kane with Ladacor Advanced Modular Systems will present on "Re-purposed Shipping Containers for Modular Construction." Additional topics will be added regularly to the agenda.
Register now at http://www.offsiteconstructionexpo.com. Exhibit hall space is limited at the University of British Columbia and attendees are encouraged to register early.
The 2017 Offsite Construction Expo – Vancouver hosts and supporters include the Modular Building Institute, Canada BIM Council, DryVit, Howick, USG Structural Solution, and Vancouver Regional Construction Association.