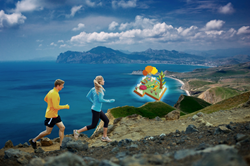 (PRWEB) August 12, 2017
Seattle, Washington: Mobile games are no longer only for entertainment purposes. A new type of mobile game, Isle of Miles, promises to help users exercise more. In the game, players use the miles they walk or run to build their very own virtual island. Proven mechanisms like daily goals and social competition are integrated into this game, along with fun elements like customizing the island and interacting with animals visiting the island.
A recommendation to spend more time playing a game is not something people often hear. Playing a mobile game and living a healthy life are typically considered polar opposites. Roby Kurian, the CEO of Z Axis Labs, explains, "Isle of Miles was not built simply to make fitness more fun. There is strong behavioral science behind game mechanics that could help users become more active, while having fun."
Many studies, including the one titled "Brain battles itself over short-term rewards, long-term goals" from Princeton University, show the human tendency to choose a short-term reward, like sleeping longer or watching TV, over a longer term reward like getting healthier. Isle of Miles could play a significant role in overcoming this problem by providing short-term rewards and entertainment.
Most of the modern phones have the ability to track health-related information like the number of steps users take. With the explosion of wearables like Fitbit and Apple Watch, it has become easier. Isle of Miles integrates with iPhone, Apple Watch or Fitbit to track the distance covered and make progress in the game. The company has plans to support more wearables and Android phones in the near future.
The features of the game include fitness badges, a leader board, a customizable island, and visiting animals. The game is free to play with optional in-app purchases. It is available for download on the Apple App Store.