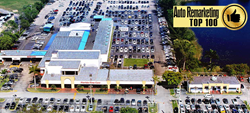 "St. Jude's is a front-runner in cancer research and saving kids' lives. Our dealership wants to be part of that."
WEST PALM BEACH, FL (PRWEB) August 21, 2017
Florida Fine Cars has announced it will support two upcoming walk/run fundraisers to benefit St. Jude Children's Research Hospital in an effort to help doctors find a cure for childhood cancers. The Memphis-based children's hospital has organized simultaneous fundraising events in Miami and West Palm Beach, FL for September 23rd and Florida Fine Cars is happy to show support behind both. The used card dealership has stores in West Palm Beach, Hollywood and Miami.
"Everyone knows someone who's been diagnosed with cancer but when it's a child, it's even harder to accept," said Florida Fine Cars marketing director Jamie Suid. "St. Jude's is a front-runner in cancer research and saving lives. Our dealership wants to be a part of that."
Donations large and small are what keep the Memphis-based research hospital operating. According to St. Jude Marketing director Rebecca Torres, it costs $2.2 million a day to run the hospital, 75 percent of which comes from donors like Florida Fine Cars.
"Every donation, no matter how big or small, helps St. Jude tremendously," Torres said. Torres met with Florida Fine Cars employees in early July to discuss the hospital's mission, explain its funding needs and solicit support for its mission.
"It's a great cause. Who wouldn't want to help find a cure for kids with cancer? If Florida Fine Cars can contribute in some small way, count us in," Suid said. Florida Fine Cars is sponsoring a hydration station in Miami and providing a meet up tent in West Palm Beach.
Money raised at the upcoming St. Jude Walk/Run to End Childhood Cancer in Dade and Palm Beach County will go back to the hospital to help further its mission: finding cures and saving children.
"Donations allow us to ensure that no family ever receives a bill for treatment, travel, housing or food. We really want to make sure that parents can focus on helping their child get healthy," Torres explained.
St. Jude has helped push the overall survival rate for childhood cancer from less than 20 percent in 1962 when it first opened to 80 percent today. Doctors at St. Jude treat everything from brain tumors, Leukemia/Lymphoma and infectious diseases to immunodeficiency diseases, blood disorders, sickle cell disease and solid tumors. St. Jude makes it easy for families to pick up their lives and move to Memphis to receive the best treatment in the world. Consistent with the vision of founder Danny Thomas, no child is denied treatment based on race, religion or a family's ability to pay.
Florida Fine Cars is a family-owned dealership with a history of civic-involvement. In recent months the used car dealer also sponsored the Young Singers of the Palm Beaches youth concert.
Florida Fine Cars offers nearly 1,000 quality used cars priced thousands below retail at its three locations combined. Florida Fine Cars dealerships are conveniently located in West Palm Beach just north of Palm Beach International Airport and just off Florida's Turnpike in Hollywood and Miami. 
Used car shopping has never been so easy. Stop by Florida Fine Cars today and test drive the car of your dreams.
#floridafinecars #usedcars #StJude #carinfo #savelives