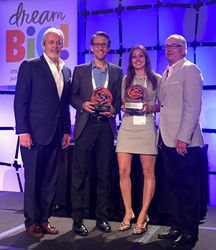 Total average order quantity increased by 319% and PRO Plus™ customers provided 665% more revenue a month.
Atlanta, GA (PRWEB) August 21, 2017
The Incentive Marketing Association's (IMA) annual Circle of Excellence awards recognize the year's most outstanding sales, employee and customer loyalty programs. Among the 2017 Circle of Excellence award-winners are Atlanta-based Incentive Solutions. Incentive Solutions won the Dealer Distributor Incentive Award for the contractor loyalty program they created collaboratively with Ferguson, the largest wholesale supplier of commercial and residential plumbing supplies in the U.S.
In 2016, Incentive Solutions and Ferguson refreshed Ferguson's long-term professional trade contractor loyalty program, Ferguson PRO Plus™. The program's three goals were:

Increase long-term trade loyalty program
Encourage contractors to purchase online
Establish better B2B customer relationships
The contractor loyalty program exceeded its goals, with 77% of contractors participating and metrics increasing across the board. Total average order quantity increased by 319% and PRO Plus™ customers provided 665% more revenue a month.
How did Ferguson's contractor loyalty program exceed expectations? "They envisioned the program as a strategic component of their overall marketing program," says Luke Kreitner, VP of Sales at Incentive Solutions. "Their program manager, Colette Garofalis, really takes ownership of the program and stays dedicated to it. She got top-down support from executives and stakeholders. And their communication plan had frequent, multi-channel touchpoints so they stayed top of mind with participants."
Features and technology-wise, Kreitner credits Ferguson's success to the following B2B loyalty program best practices:
Along with core program point offerings, contractors could earn extra points by joining anniversary campaigns and filling out surveys.
Contractors could earn points from participating in daily football trivia, which included endorsement from a former pro football player during NFL preseason.
Reward points were redeemable for a diverse selection of merchandise, event ticket and travel rewards.
Incentive Solutions, Ferguson and other 2017 Circle of Excellence award-winners were honored on July 25th during the IMA Summit in Orlando, FL. Incentive Solutions and Ferguson are proud to be recognized for their B2B loyalty program achievements and hope to continue developing incentive strategies that enhance and maximize marketing opportunities.
About Ferguson
Ferguson is the largest wholesale distributor of residential and commercial plumbing supplies and pipe, valves and fittings in the U.S. The company is also a major distributor of HVAC equipment, fire protection systems, waterworks and industrial products and services. Founded in 1953 and headquartered in Newport News, Va., Ferguson has sales of $13.8 billion and approximately 23,000 associates in 1,400 locations. Ferguson and its subsidiaries serve customers in all 50 states, Puerto Rico, Mexico and the Caribbean. Ferguson is part of Ferguson plc, which is listed on the London Stock Exchange (LSE: FERG) and on the FTSE 100 index of listed companies.
About Incentive Solutions
Incentive Solutions, Inc., founded in 1994 based in Atlanta, GA, offers online rewards, travel incentives and gift card rewards. Since its creation, Incentive Solutions has focused on delivering more than just rewards, innovating the incentive industry by utilizing emerging online technologies. Acting as valued partner and trusted advisor to clients, they help organizations increase sales, motivate employees, build customer loyalty, create positive work environments and improve channel sales relationships.
Incentive Solutions
2299 Perimeter Park Drive, Suite 150
Atlanta GA 30341
1-770-457-4597
1-866-567-7432
http://www.incentivesolutions.com