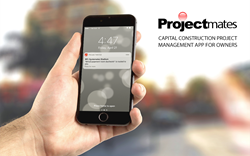 We are excited to be selected to help Collin College manage their capital construction projects and provide Projectmates to make the handling of the $600M bond easier. Projectmates is dedicated to creating an intuitive workflow
Richardson, TX (PRWEB) August 14, 2017
After Collin County voters approved a $600 million bond referendum to facilitate the college's master plan, Collin College chose Projectmates Construction Program Management Software to manage its "2020 Vision Master Plan." AECOM was also selected to manage the bond program. The college's master plan will provide more programs and facilities to accommodate the county's projected population growth in the next two decades.
AECOM wanted to be partnered with a software vendor that could get them up and running quickly but still be flexible enough to modify as they hire their design professionals and CMARs. Projectmates has an average implementation time of 2-4 months.
"We are excited to be selected to help Collin College manage their capital construction projects and provide Projectmates to make the handling of the $600M bond easier. Projectmates is dedicated to creating intuitive workflows that make it easier for everyone to communicate transparently and know instantly where the project is for each phase. Moreover, we are especially excited to work with a close neighbor in the Dallas-Fort Worth Area," Stated Hemant Bhave, AIA, Vice President for Systemates.
Collin College will be utilizing Projectmates for its powerful capital improvement project software capabilities. With capital improvement project software (CIP), Collin College and AECOM will be able to strategize and track their capital projects over multiple years and through all four phases. Utilizing the intuitive design and workflows Projectmates prides itself on, CIP will make a typically complex process for reporting magnitudes simpler with a graphical report of projects, costs, and expenditures.
Several new facilities being built include a new campus in Wylie, a technical center in Allen, educational centers in both Celine and Farmersville, and an IT center at the Preston Ridge Frisco campus. Projectmates will be utilized for the $600M bond management and capital construction project management throughout phase's I-IV.
About Collin College
Collin College, formerly known as the Collin County Community College District, CCCCD, or CCCC, is a community college district which serves the Collin and Rockwall counties, located north and northeast of Dallas, Texas. Since offering its first classes at area high schools in 1985, Collin College has expanded to serve about 53,000 credit and continuing education students each year. The only public college in the county, the college offers more than 100 degrees and certificates in a wide range of disciplines.
About Projectmates
Today, Systemates has an expansive client base – from traditional construction companies to Real Estate Trusts, from Healthcare facilities to modern Educational Institutes and from Public Sector groups to leading Retail companies. Projectmates' collaborative platform dramatically improves project execution, cuts costs and delays, increases accountability, and reduces risks.
With its cutting edge technology, Projectmates creates one seamless platform for managing the complete lifecycle of construction from planning, bidding, and building to maintaining the facilities. Over 100,000 projects from organizations such as Retailers, Real Estate developers, Educational and Government agencies rely on Projectmates to manage billions of dollars in capital construction programs. Projectmates has been trusted by construction owners for over 20 years and is SOC 2 TYPE II certified.